Culture
Working Out at Work
Rick Hughlett of Rick's Automotive is always finding ways to invest in his employees, with his latest venture leading him to open an on-site fitness center just for them. Learn why he says giving back is better for both the employee and the customer.
By Savannah Waszczuk | Photo by Brandon Alms
May 2016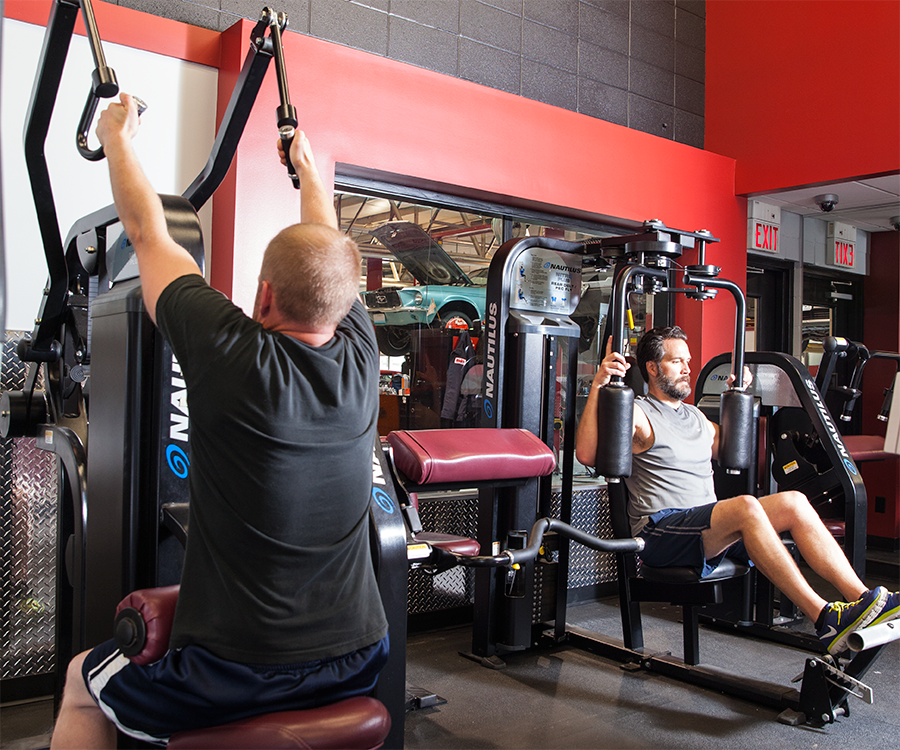 After moving his company's administrative offices to a shiny new building, Rick Hughlett of Rick's Automotive wasn't sure what to do with the old space. "I thought about putting in a rental car agency or something," Hughlett says. But three years ticked by, and Hughlett still hadn't made a decision on how to use the facility, which is conveniently located on the same property. "I went over there one day to see what to do with it, and I noticed that some people had brought in workout equipment," Hughlett says. "They were going over there and working out during lunch."
Rather than kicking their workout gear to the curb and using the space to make a few extra bucks, Hughlett decided to use this as an opportunity to give his employees a little something extra. The first step, of course, was gauging interest. "It's really important to stay in touch with all of your employees," he says.  "I won't ever do anything here until I run it by all of them. I said, 'If I built a nice fitness center over there with a locker room and showers, who would use it?'" Hughlett says. "Every hand in that room went up." 
The next day, Mercy Springfield announced it was closing its fitness center, and all of its equipment was up for grabs. "I went and bought a lot of the equipment to use in our facility," Hughlett says. The gym at Rick's also features private showers and a locker room, as well as a swipe card system on the door so the employees can come and go at their convenience. Hughlett also plans to provide nutrition classes and guided courses on using the machines.
These perks are just one of the ways that Hughlett takes care of his employees. "I also pay 100 percent of their health insurance," he says. This is quite an expense, as Rick's Automotive employs 39. But Hughlett doesn't even give it a thought. "A lot of these guys have been here 15 to 20 years," he says. "They've given me a lot of their life by working for me. This is a chance for me to give back to them." And he does things aside from watch out for their health, too: Once an employee has been at Rick's Automotive for 20 years, Hughlett sends them on a dream vacation. "I'll pay for them and their spouse to go wherever they want," he says. He also closes up the shop on Saturdays and Sundays. "They're working hard for me all week," he says. "I want them to be with their families on the weekend." 
All of these benefits born from Hughlett's attentiveness to his employees make Rick's Automotive a great place to work. "What I tried to design here is basically the dream job for a mechanic," Hughlett says. "If you're a good technician and that's what you want to be, I want this to be the best place to work in the U.S." And while it all comes at an expense to Hughlett, he says it's worth the investment. "I believe in treating my employees well, because it makes them happy, and that all comes back to the customer," he says. "When I give to my employees, the customers also win." And whether they're working on cars or working on their fitness at their all-new gym, it's safe to say Rick's employees are happy indeed.