Offices
The State of Co-Working for 417-Landers in 2018
The co-working landscape has shifted and evolved over the past few years. Find out when, where and how you can take advantage of these spaces in Springfield.
By Rebekah Olson
Mar 2018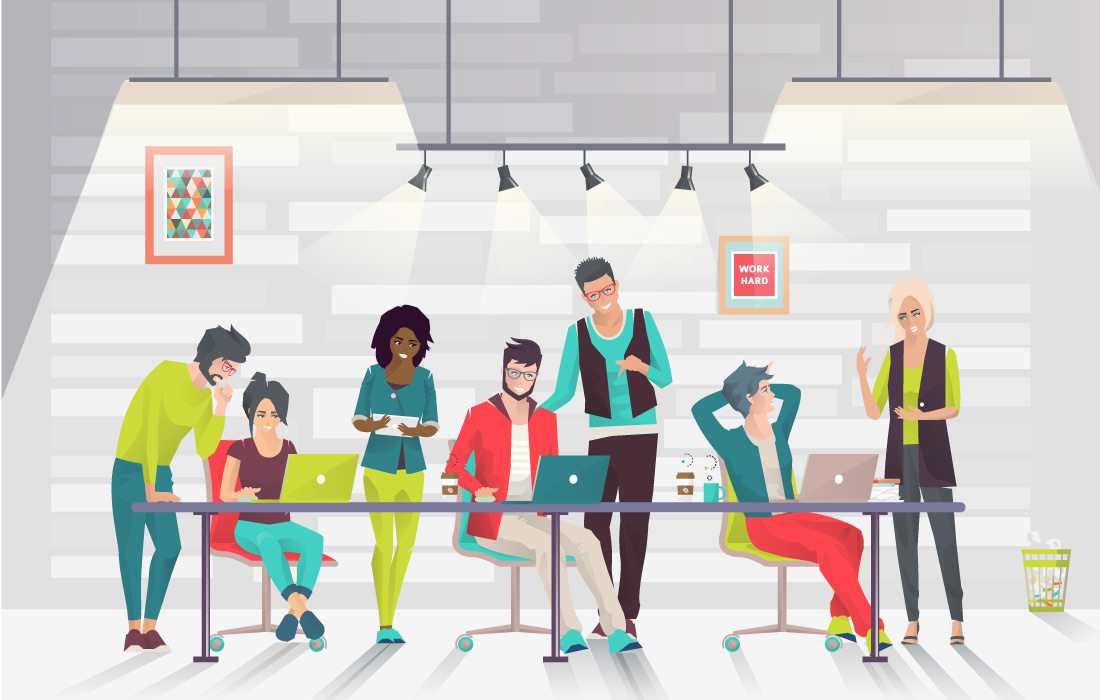 Co-working began as a way to address workspace challenges for independent workers. Now, freelancers, startups and even big corporations are turning to co-working for innovation and creativity, temporary and as-needed office space, business expansions, remote workers and more. Trend-watchers in 417-land say the climbing desire for contingent work and contingent workers, coupled with the demand for more workplace flexibility, are the catalysts sparking the recent boom.


Trend No. 1: Co-working spaces are focusing on culture—just like traditional offices.
Building a sense of community in co-working spaces has become the secret sauce of the industry. Community is what differentiates the co-worker from the coffee-shop dweller, and it's proving essential to attracting and retaining members across the board. This is true too for The eFactory, which helps intentionally connect solopreneurs, startups and businesses through complimentary resources. "We offer a lot of programming in-house that you get to attend for free as a member," Program Coordinator Paige Oxendine says. "We also offer complimentary coffee from The Coffee Ethic all day, we create a variety of communal spaces to eat lunch and take breaks in, and we configure Slack so that members have easy access to each other. When you encourage entrepreneurs to come together and connect, networking and referrals happen organically. Our members enjoy coming to work every day because of community."


Trend No. 2: Legacy companies are relying on co-working spaces.
These days, co-working meets a wide variety of needs, even for big business. Corporations are strategically moving employees into these spaces all across the nation. They recognize that exposing their staff to new ideas and creative work environments creates more value for their businesses. Larry and Jeff Paulette, partners of Springfield-based Campaignium, have relied on co-working spaces to grow their digital marketing business in Colorado. "For us, co-working was a financially responsible decision that reduced our expansion risk," Larry says. "But more than that, renting space at WeWork allowed Campaignium to quickly assimilate into a like-minded community in a new market. Now, we're better positioned to capture business opportunities, and we're more accessible to our growing base of Denver clients." (Editor's note: Although freelancer Rebekah Olson now works at Campaignium, she was not employed at the company while reporting or writing this article.)


Trend No. 3: Flexibility can spur innovation. 
"Businesses are transitioning quicker and making deals happen faster than ever before," says Cast Executive Director Meagan Dollens. "For companies and employees who are always on the go, there's a need for [a mix of] open offices, collaborative work atmospheres and private meeting spaces to get work done quickly and efficiently." A simple change of scenery can reset motivation for a lot of people. When individuals are allowed to work when and where they please, innovation happens. In fact, according to global research by Deskmag and Deskwanted in 2017, two thirds of contingent workers say they feel more creative in co-working spaces. It makes sense. "When all of these great business minds and creative people are housed under one roof—regardless of what they're working on—you're bound to connect with someone who will help you in some way," Dollens says. Like The eFactory, Cast organizes events for members so they can mix and mingle.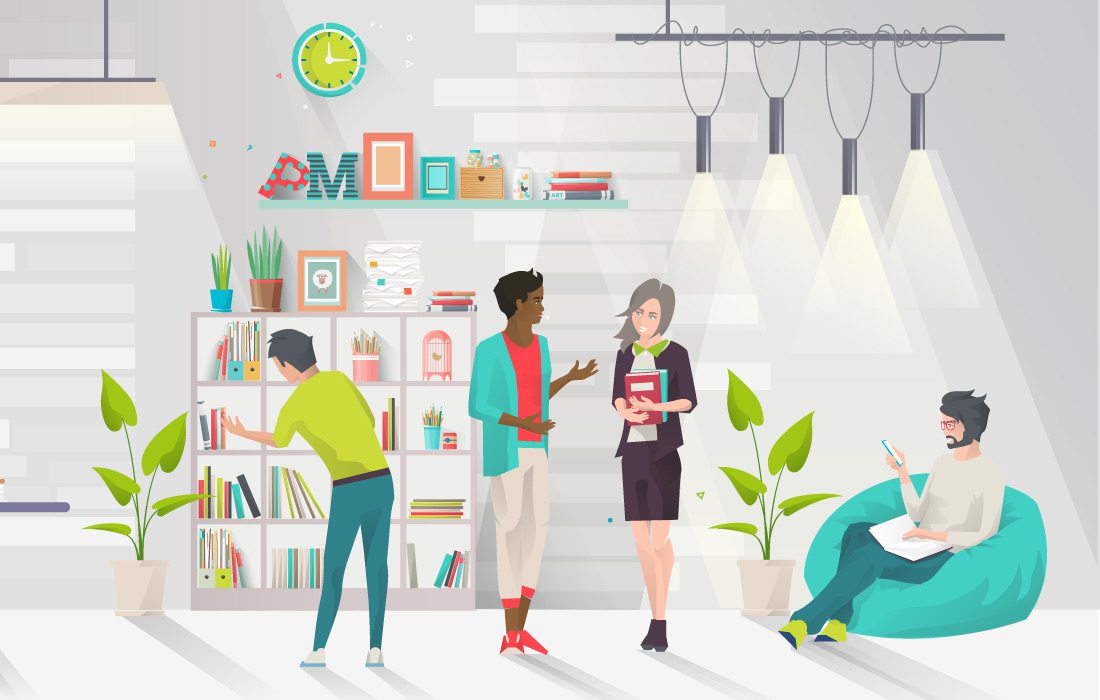 5 Co-working Tips for Newbies
We talked to co-working aficionados, Self Interactive Owner Charlie Rosenbury and Eric Chambers, senior consulting manager at Torrent Consulting, to find out how you can make the best of your co-working experience. 

Do Lunch
Don't just eat lunch at your desk every day. "One of the [biggest] advantages of working in a co-working space is being part of a community that is bigger than your own company," Chambers says. So, try eating your bagged lunch in the break room and invite others to join you. "Since you aren't working on projects together, you have to be intentional about developing relationships," he says.


Be Space and Time Savvy
Some people thrive while working at home, but separating your environments—where you work and where you relax—has huge psychological benefit, Rosenbury says. "Changing up your scenery can help you be more intentional about managing your time, which is key to co-working and owning your own business," he says.


Get Involved
Most co-working spaces have quite the community. Some even offer free programming and events for members. "Attend the events that your co-working space sponsors," Chambers says. It's a great way to meet people and contribute to your co-working community.


Make Connections
By being in a co-working space, you benefit from being so close to people of varying backgrounds, sharing skills and sharing information. "I often meet people with skill sets that complement mine, where we can collaborate on a project," Rosenbury says. "Or even people with skill sets that match mine, where I can get a second opinion on something." Give referrals when you see a good fit and you'll get them in return. Be open to helping others and to learning from your peers, even if they're not in your industry.


Stay Focused
"Being around people who are building something can be energizing, but it can also be distracting," Rosenbury says. Both he and Chambers suggest investing in a set of headphones with a microphone, so you can disconnect from conversations when necessary. "You can use them to drown out background noise when you need to focus and to make calls without disturbing others," Chambers says. 

Looking Ahead
Co-working is one of the fastest growing work trends this decade. We've been keeping up with the different models of co-working, community and programming happening around the nation. Here are a couple of our favorites that have yet to grace 417-land.

Co-working Women
Around the nation, women are harnessing inspiration and success by creating single-sex co-working spaces, including at St. Louis's RISE Collaborative Workspace. Rosie co-founder Rachel Anderson takes notice. "Springfield has a lot of great business and social networks already established for women; it's refreshing to continue to see additional opportunities for encouragement, community and advancement [in 417-land]," she says.


Co-working with On-site Child Care
Some spaces, such as The Hatchery in Columbia, are now adding on-site child care packages to co-working memberships. For freelancing parents, this is a dream come true. Unconventional jobs mean unpredictable schedules and income, but a pay-as-you-go co-working plus childcare model could be the perfect solution.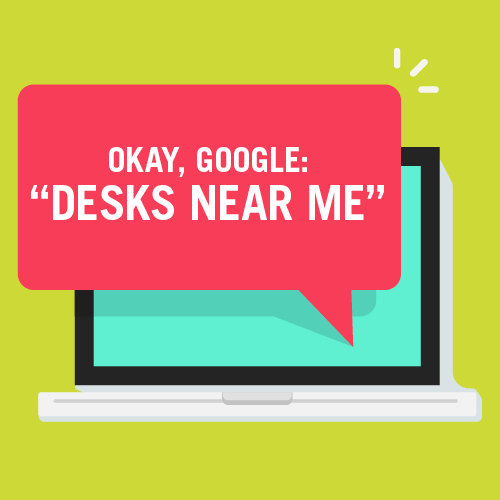 Our region is brimming with co-working space. Find a desk for your side hustle, a hub for your project team or a long-term home for your remote employees.