Small Businesses
MT Knives
No matter how you slice it, craftsman Patrick Roehrman has found success making top-notch blades with his company, MT Knives.
By Stephanie Towne Benoit | Photos courtesy MT KNives
Mar 2017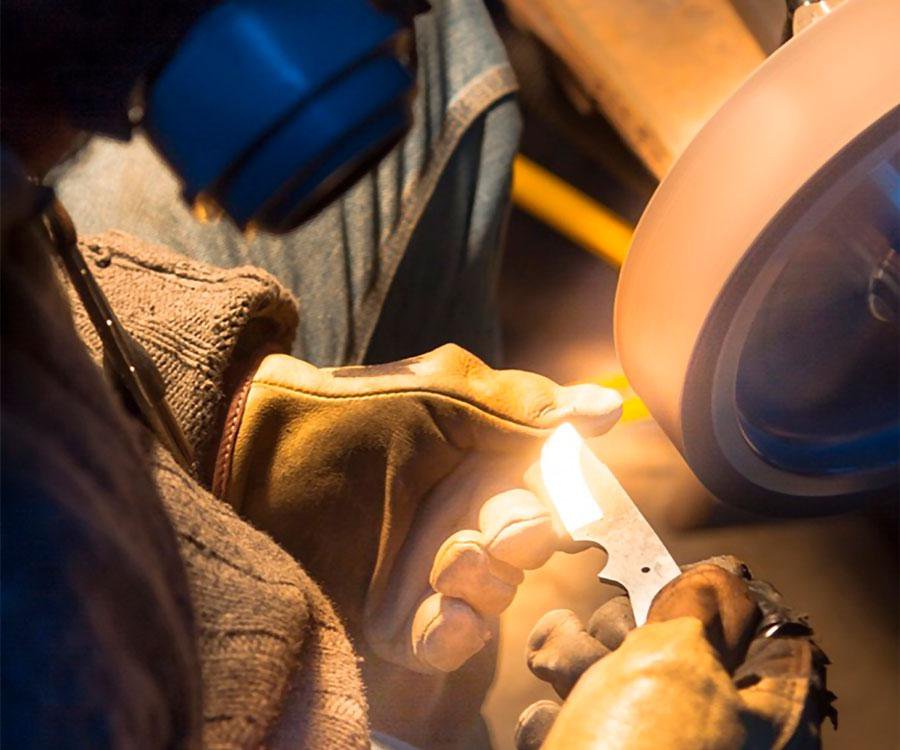 Although working as an electrical lineman was lucrative, Patrick Roehrman realized he wanted to spend more time with his family and work from home by going into business for himself. "I wanted to work for myself and kind of be in charge of my own schedule and have the freedom of that," he says.
Roehrman discovered a passion for making utility knives as a hobby in spring 2010. Later that year, MT Knives was born, and today Roehrman spends his days crafting top-quality knives prized by outdoorsmen and enthusiasts around the country. It wasn't easy going from part-time craftsman to full-time business owner, though.
He turned to his friend Jack Spirko, an entrepreneur who runs The Survival Podcast, for advice. Spirko believes small businesses can be successful if they can leverage the support of a small group of loyal customers. This has become the foundation of MT Knives. "By having that base of loyal supporters that are willing to support what you do—as long as you're putting out a good product and they have something that they are willing to back—you can work for yourself," Roehrman says. 
To engage loyal consumers, he developed MT Knives' Stakeholder Program allowing 100 enthusiastic customers to purchase a stake in the business in exchange for perks like exclusive limited-edition knives. The move paid off: Every stakeholder position sold in six minutes flat. 
Since then, Roehrman has experimented with additional revenue streams—including his own instructional knife-sharpening DVD—but he believes the most important ingredient to his success is simple: continuing to craft knives that are a cut above the competition. "I guess one of my biggest business strategies is just making sure that I put out the best product possible," he says.


---
Behind the Design: MT Knives
If you've ever looked at a product and wondered, 'How did they do that?' we've got the answers for you. MT Knives founder Patrick Roehrman painstakingly crafts custom and production knives each day in his Sheldon, Missouri, workshop.
Each of Roehrman's knives, whether it's custom or one of his production models like the Genesis I, starts with the design. "I ask myself 'What is this knife going to be used for?'" he says. "That's going to dictate what a good design is." He then puts that design down on paper and reviews every detail. 
For production—also called stock-removal—knives, he uses steel that has been laser cut. For custom knives, he usually forms a template, places the template on steel and cuts and grinds the metal. 
Next is the heat-treating process, during which the steel is repeatedly heated (usually in the forge or heat-treating oven) and cooled back down. "The heat-treating process is one of the most critical things," he says. The next steps include tempering the steel, bringing it back down to room temperature and grinding and polishing the blade.
Soon afterward, Roehrman prepares and drills the handle material, to which he affixes a liner to help create a solid bond between the handle and steel. The handle is then secured with epoxy. In some instances, a mechanical fastening is used for additional sturdiness.
Last but not least is a final inspection and touch-up to the edge before the knife is ready to be shipped to customers around the country.