Strategy
A Few Clever Tweaks Made Plain Business Cards Into Guaranty Bank's Best Recruiting Tool
Knowing first impressions are everything, the team at Guaranty Bank created a calling card to help them recruit employees who excel at customer service.
By Claire Porter
Jul 2018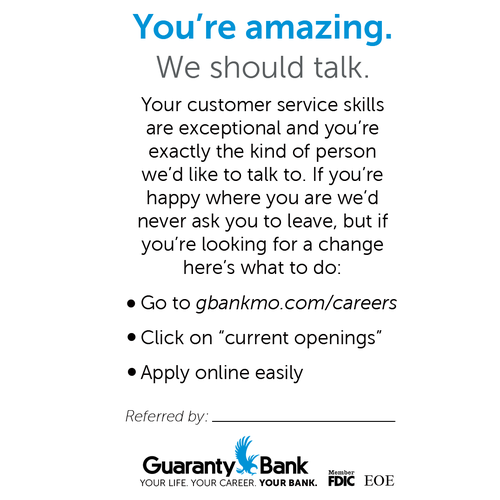 Robin Robeson shares her tips for success.

1. Use your team. Robeson shared the cards with the board of directors to further their reach.
2. Integrate your messaging. Throughout your efforts, maintain consistent messaging that reflects your culture.
3. Make people smile. "When I give someone one of those cards, I guarantee it just made their day," Robeson says.
When Robin Robeson, Guaranty Bank's executive vice president and chief operating officer, started discussing recruiting efforts with her team, she shared the story of her start in banking. While working at Sears, Robeson assisted a bank executive who, impressed with her service, left his card and told her to apply for a job. Thirty-two years later, Robeson is still in the industry. Several of her colleagues had a similar story.

What Robeson and her team were tapping into was the power of employee insight. "If you understand what the culture of the organization is, you're going to have a better sense if someone is going to fit in," Robeson says. A cash incentive for job referrals was already in place at the bank, but the team wanted to further encourage employees to capitalize on positive interactions. 

Wanting something more memorable than a plain business card, the recruiting and marketing teams came up with messaging that recognizes great customer service, which is one of Guaranty Bank's core values. The cards direct recipients to the careers page, which has employee testimonials and an introduction to Springfield, in addition to job postings. 

The cards maintain a focus on the recruit's abilities. Even the company's tag line, "Your Life. Your Money. Your Bank," is tweaked to say: "Your Career. Your Future. Your Bank." "This fits our company culture," Robeson says. "I would encourage companies to be more creative about [recruiting] because that's what you've got to do to stand out. We're looking for ways to not make this boring because we're a bank, and people are automatically going to say, 'Oh, it's a boring old bank,' but we're not. This is a vibrant culture and a vibrant place to work, and somehow we have to give that feeling when we're recruiting people because that's the kind of employees we want."