Small Businesses
Salt River Leather
When old baseball gloves helped a graphic designer find his niche in leatherworking, a part-time hobby became a money-making side gig.
By Ettie Berneking | Photo by Brad Zweerink
Jul 2017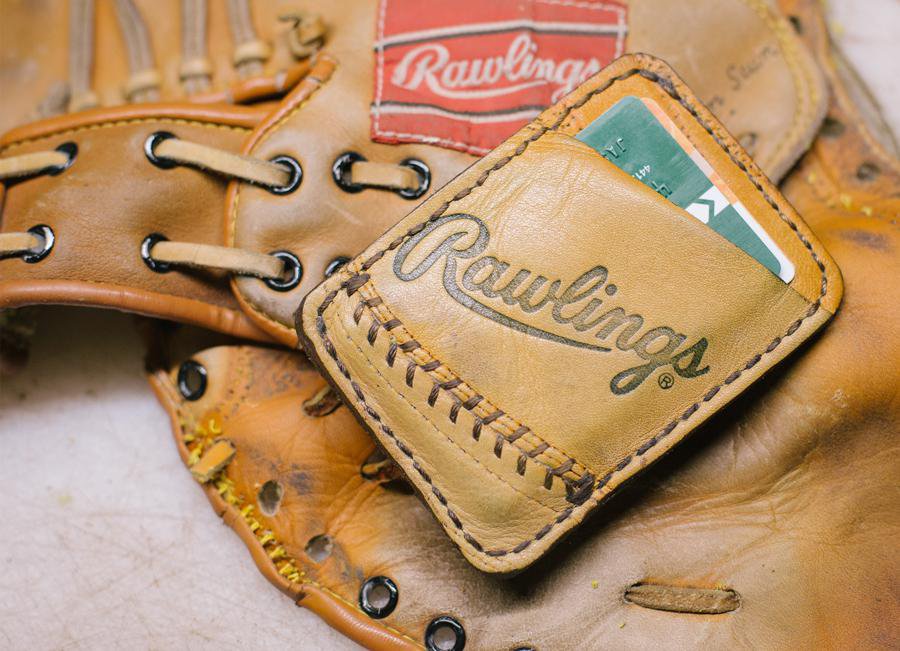 Before making leather wallets, bags and jewelry became a profitable side-hustle for Jason Hooge, it was just a hobby. In 2011, Hooge spent his free time at Springfield Leather picking up tips on what tools to use and what types of leather worked best for different projects. "I got the itch," he says. "I wanted to learn to make my own wallet." So he did. With the help of the staff at Springfield Leather and some inspiration from The Art of Manliness blog, which covers everything including how to survive a dog attack and how to dead lift, Hooge tiptoed his way into leatherworking.
In 2013, Hooge's basement studio began filling with finished wallets, bags and watch bands. Thanks to a loving nudging from his wife to clear out merchandise, Hooge launched an Etsy page. To his surprise, customers found him. With orders coming in, Hooge had to define his brand and his price points. 
The branding was easy. He loves old-fashioned slogans like sending someone down the salt river. "It means to give someone a hard time," he explains. "You can't worry about your name or logo pleasing everyone all the time. You just want to pick something you connect with."
Fine-tuning his price points was a little trickier, though, because Hooge was new to the world of retail. He worried about scaring customers off with steep prices or alternatively devaluing his time. After some trial and error, Hooge landed on a range of prices that has helped him bring in a wider net of customers. 
As business grew, Hooge registered Salt River Leather with the state, got his business license and got a booth at Farmers Market of the Ozarks to bring in more foot traffic. "I went into leather because I love the touch, the smell, the tactile experience," he says. "I wanted customers to have that interaction at the market." 
Along with the farmers market booth, Hooge found his niche in turning old baseball gloves into wallets. The new line of merchandise isn't just catching the attention of customers. Area stores have asked to carry his wallets, and Hooge says he was asked to make 200 baseball glove wallets for a company that works with the New York Mets. But when they couldn't agree on pricing, Hooge had to pass. "You have to decide what your time is worth and what growth you're happy with," he says. "Last year, we had 10 percent growth, and I'm happy with that."


---

Behind the Design: 
If you've ever looked at a product and wondered, "How did they do that?" we've got the answers for you. Jason Hooge, owner of Salt River Leather, walks us through the steps and tools he uses to turn an old baseball glove into a seemingly new leather wallet. 
Where do you turn when searching for an oddball item? If you answered eBay, you and Jason Hooge have something in common already. Working out of his basement studio, Hooge makes a wide selection of leather products for his business Salt River Leather. He's made watch bands, mason jar koozies, jewelry, mouse pads, keychains, bucket purses, clutches, messenger bags and bracelets. But his most popular item by far is a wallet. 
Carefully measured and cut, the wallets start out as beat up baseball gloves. By the time Hooge is finished, the leather lacing has been snipped away, the stuffing pulled out, and those Twinkie-sized leather fingers have been hand-stitched to create pockets and stiff corners. Depending on the size of the wallet he's making and the condition of the baseball glove, it can take anywhere from two to three hours for Hooge to finish one of his Rawlings wallets. 
Most gloves in Hooge's studio are ones he's found on eBay, and they range in quality and price. Thanks to years of wear and the habits of their previous owners, each glove is different, meaning each wallet Hooge makes is unique. To start, Hooge chooses a glove and evaluates the condition of the leather. Without many cracks or tears, a normal catcher's mitt can yield two wallets and possibly a few smaller leather trinkets. The larger the wallet, the more leather is needed.
Once he's selected a glove, Hooge then picks out a wallet template to use. After several years of honing his craft, Hooge has drafted templates for his most popular wallets. Using templates speeds up the process significantly. Armed with a simple cutting tool and a utility knife with interchangeable blades, Hooge begins dissecting the glove. The thick leather lacing is cut out, the stuffing is removed, and the metal eyelets are popped out before Hooge separates the leather pieces that make up the glove.
At this point, Hooge can better see the leather's imperfections and start planning his design. In 2016, Hooge was buying up and repurposing dozens of gloves tied to the St. Louis Cardinals and the Chicago Cubs. From signature gloves like those, if there's a large logo, an autograph signature or even an interesting mark left on the glove, Hooge can design the wallet to highlight it. That's part of what makes each glove so unique. 
Once Hooge is ready, the leather is cut out and fit to the template before Hooge begins hand-stitching the material back together. His two primary stitches are a saddle stitch and, not surprisingly, a baseball stitch. With his wallet beginning to take shape, Hooge inserts a thin leather lining and glues it in place inside the wallet before trimming away any excess material. By the time he's done, that once cast-aside leather glove has been reincarnated into a polished wallet. "I can't pretend I knew what I was doing when I started," Hooge says. "But I was willing to learn."