Jack Henry & Associates was founded in Monett in the 1970s and still has a large campus there.
What started 41 years ago by two 417-landers from Monett—one with a banking software program, one with business experience—is worth more than $1 billion today. Jack Henry & Associates Inc., a publicly traded technology company, has three distinct brands, more than 300 products and services, around 11,000 clients and 6,000-plus employees. More than 2,100 associates work at its Monett headquarters and Springfield campus. With industry-competitive salaries, that's a lot of spending power in 417-land. The company also has a regular influx of visiting clients and associates who patronize area restaurants and hotels. Jack Henry & Associates even played a significant role in building Monett's YMCA and raises local charity funds through an annual golf tournament.
Laying the Groundwork
Monett seems an unlikely location for such a large company, but that's where founders Jack Henry and Jerry Hall are from. They simply stayed put, and their company continues to leave a significant economic and philanthropic footprint by staying true to its long-standing culture.
The business started in the '70s when Henry developed a piece of core information processing software for the Monett bank where he worked. When the bank was bought out, it gave the program back to Henry, who didn't know how to run a company. Enter Jerry Hall, a data processing manager who quit his job at a shoe company. "From that and through the acquisitions and development efforts and everything else, we have grown into what we are today," says Kevin Williams, the chief financial officer and treasurer.
The JHA culture, which harkens back to its founders, is key to the company's growth and success. "What they always said was anybody can build technology," Williams says. "The only truly consistent competitive advantage we have is our reputation for customer service." That reputation has spread across the country with the company's growth in the past 25 years. 
The only truly consistent competitive advantage we have is our reputation for customer service."—Kevin Williams, chief financial officer and treasurer at Jack Henry & Associates
Gaining Momentum
More than 60 percent of the JHA's current revenue is a result of acquisitions made during the span of eight years. A 1992 acquisition launched Jack Henry & Associates' electronic payments processing system. That system is now 37 percent of total revenue. Acquiring Symitar in 2000 got JHA into the credit union industry, now representing about 25 percent of revenue.
Jack Henry hosts many visiting clients each year including Matt Armstrong, an account executive at Microsoft.
Williams cites two other moments that were pivotal for growth. A 1995 acquisition brought outsource processing, allowing clients to connect to data centers where Jack Henry completes all back-office processing, Williams explains. In 2004, Mike Henry, Jack Henry's son who was CEO at the time, started focusing on diversification. In 2005—through a series of acquisitions—the company established its third brand, ProfitStars, which provides solutions that don't require JHA's core processing. Now, instead of just 2,000 customers using the company's system, Williams says about 11,000 financial institutions have one or more JHA products.
Luke Killinger and Tommy Bradford are two of the thousands of employees who work at JHA in 417-land.
Throughout these acquisitions, the company has been careful to protect its culture. Williams advises business owners to examine the company culture of a potential acquisition along with its financials. If the culture would damage your company, "you can never fix that," he says. Better to pass. Also, take care of new and current associates. They in turn will take care of customers, who will take care of the company by generating revenue. "We set the standard in our industry for customer service," Williams says. "We always have, and we always will."
Onboarding the Jack Henry Way
A well-planned onboarding program is key to smoothing the transition for new hires. New employees are welcomed to Jack Henry & Associates through a comprehensive onboarding program that was developed over a decade. "It is our opportunity to welcome new hires and provide them with the knowledge and resources they need to understand how they fit into the big picture so they can be successful at JHA," says Tiffany Haynes, managing director of human resources.
The process starts with the assignment of a mentor they call a Pride Ambassador from the department where the new hire will work. Ambassadors give associates tours, take them to lunch the first day and introduce them to other team members. For 90 days, ambassadors act as points of contact for basic questions, training and encouragement while introducing the new employees to company culture, core values, philosophies and expectations, Haynes says. The purpose, she says, is to "develop trust, respect and build a positive relationship."
President and CEO David Foss also spends time with each new class of employees to answer questions and discuss company history. Lastly, new associates participate in a New Employment Orientation, which takes place over a week. Day one includes working with the manager; days two through five include virtual training, led by a facilitator, to provide a company overview, human resources information, safety training and more.


---
When a small Springfield auto parts company was launched in 1957, it was the start of a family empire. Sixty years later, O'Reilly Auto Parts is a publicly traded Fortune 500 company worth billions that, thanks to the recent acquisition of a New England chain, is expected to soon reach 47 states. 
Chairman of the Board David O'Reilly cites a philosophy initiated by the co-founders—Charles H. "Chub" O'Reilly and Charles Francis O'Reilly, his father and grandfather, respectively—as the foundation for the company's success. "They did everything and anything for the customer," David says. 
He and his siblings built on that foundation with committed team members, a culture of employee ownership and by "staying focused on what we know," he says. "We know the parts business. And we learned that business well and expanded our horizon in terms of new locations, new areas, new types of distribution and new technology but within the parts business."
This O'Reilly Auto Parts store in Bolivar opened in 1977 and was the company's 15th location. Today, the retail giant has more than 4,700 stores across the nation.
When people need parts, they need them quickly. That's why the company revolves around efficient ordering and distribution to wholesale and retail customers. Through acquisitions and mergers, they've established 27 regional distribution centers within range of stores to ensure overnight and often same-day delivery. By incorporating data research, O'Reilly ensures inventories are regionally focused.
Going Public
After David joined his older brothers, Larry and Charlie, and sister, Rosalie O'Reilly Wooten, in the company, they expanded the business beyond a regional footprint. By 1989, they had 100 stores, and in 1993 went public. "Going public was a big deal for us," David says. "It was kind of a game-changer." Team members now had the ability to buy in, which was a key reason for the move, he says. There's a difference between a job and working where you have ownership, he adds. 
Company strategy didn't change much apart from pursuing expansion more aggressively. "We found through the going-public process that our approach to doing business and our culture was recognized as a very strong attribute of the company," he says. "We really just continued to do what we did prior to '93."
O'Reilly's 27 regional distribution centers are key to providing great customer service.
Although leadership relied on the same playbook, going public required being accountable to stakeholders. "It puts an additional level of pressure and expectation on you in general," he says. "My observation is, for us, it made us a better company."
Preparing for the initial public offering took about four months of poring over every record, every contract, employee agreements and more. Legal counsel and accounting staff who are knowledgeable about staying compliant with U.S. Securities and Exchange Commission requirements are critical advisors for this process.
Another big moment for the company was the 1998 acquisition of Hi/Lo Auto Supply in Texas and Louisiana. The move added 182 stores that "almost doubled the size of our business," David says. And in 2008, acquiring CSK added 1,300 stores and western states to O'Reilly's domain.
Ensuring a Strong Future
Now, all the sibling owners except David have retired, and the company continues to change. David was CEO from 1993 until 2005 when Greg Henslee was appointed to the role—the first non-family member to hold that title. It was Henslee who spearheaded the CSK acquisition, David says.
The third generation of the O'Reilly family helped grow the company beyond 417-land. Here Rosalie O'Reilly Wooten along with her brothers Charlie, Larry and David O'Reilly are with their father and company co-founder Charles H. "Chub" O'Reilly.
The fourth generation of the O'Reilly family isn't involved in the auto parts company, instead following their parents' examples by developing other enterprises including property investments, outdoor retail, a yoga studio and Farmers Park to name a few. The whole family has had a significant impact through these business pursuits and a culture of giving back. 
Looking back on the past decade, David is pleased. The 2005 shift in leadership was by design, and Henslee wasn't an outsider, David stresses. Henslee has worked at O'Reilly Auto Parts for 27 years. "He started as a parts guy in a store," David says. "Our whole management team is like that. Those people have all been homegrown." And they embrace the company's core philosophy of values, service and winning attitude. They perpetuate, David says, "what Dad and Grandad wanted."


---
BKD's headquarters and Southern Missouri Practice Unit are in downtown Springfield.
Just after World War I in 1923, a small accounting firm was founded by William Baird in Kansas City and Wade Kurtz and Claire Dobson in Joplin. Twenty-five years later, in 1948, they expanded to Springfield. Here the firm established headquarters for what is now the $537.6 million national public accounting and advisory firm BKD LLP.
Springfield can thank the firm's first branch director, Hearld Ambler, for BKD's headquarters. In 1976, Ambler became the first managing partner for Baird, Kurtz & Dobson. "He started building an administrative team that has continued to grow throughout the years," says John Wanamaker, managing partner for the Southern Missouri Practice Unit, which includes Springfield, Joplin and Branson.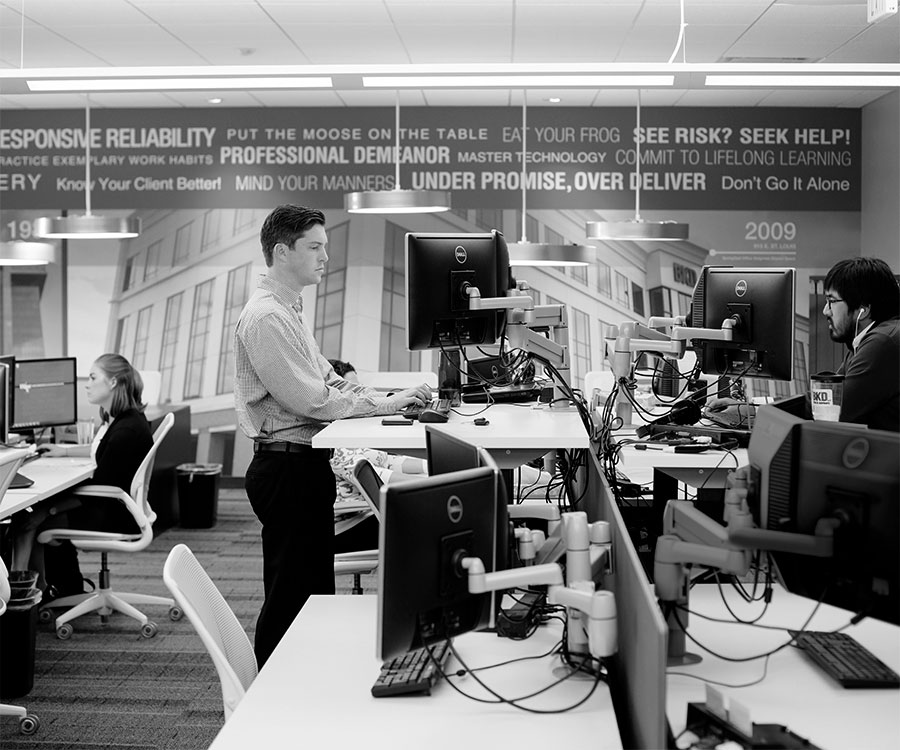 Since the 1990s, BKD has provided clients with specialized services such as business valuations and auditing.
The Springfield practice started in the Landers building, moving to McDaniel, then in 1987 to the Hammons Tower. Outgrowing the Tower led to construction of its current building where the Southern Missouri Practice Unit and national offices reside.
All the money that comes in from southern Missouri partners stays in southern Missouri."—John Wanamaker, managing partner for BKD Southern Missouri Practice Unit
Today BKD operates out of 34 offices in 15 states to serve clients nationally and internationally. It has two subsidiaries, Corporate Finance and Wealth Advisors, and 263 partners. The firm serves practically every industry while recognizing five major niches: manufacturing and distribution, financial services, construction and real estate, health care and nonprofit government. In 2016 it was named a top five Best of the Best Firms of Distinction by INSIDE Public Accounting. 
Expanding its Niche
 A pivotal event for BKD was the passage of the Medicare Act in 1965 when the firm entered the health care field by representing providers. "That was a huge decision for us, and health care now is our largest industry niche," Wanamaker says.
In 1969, BKD expanded to Arkansas, continuing to grow through mergers and acquisitions. By end of the '90s, BKD was providing specialized services such as business valuations, litigation support, forensics and more. Today these specialties are practiced firm-wide, providing added value for clients, Wanamaker says. "You've got people who are 100 percent focused in that niche, bringing expertise to the table," he says. "From a firm perspective, it made a lot of good sense." So did the 2001 mega-merger with Olive LLP, doubling the size of the firm, then renamed BKD LLP. 
The company operates under a set of codified standards described in a book that every team member receives. They are: integrity first, true expertise, professional demeanor, responsive reliability and principled innovation. Wanamaker is proud he helped write the book, which was published in 2004. "We started implementing core training of those client service standards, so it's literally woven now into the fabric of our continuing professional education," he says.
Client standards are reinforced for BKD employees through continuing education programs.
Contributing to the Community
In 2000, the firm established the BKD Foundation. To date the foundation has given more than $12 million, benefiting Springfield and other locations through grants requested by employees and partners for charities they support. 
Each area has its own foundation budget, he adds: "All the money that comes in from southern Missouri partners stays in southern Missouri." In 2016, $122,000 was donated in southern Missouri; firm-wide the amount was $1.1 million. BKD also provides endowments to schools where they recruit including Missouri State, Drury and Evangel universities.
"I'd like to think we've had a positive impact on the community in giving back," he says. "It's not about just the pure business benefit. It's about giving back to the community [in which] you live and work."


---
In 1972, Johnny Morris (far left) opened Bass Pro Shops after selling tackle at his father's store, Brown Derby.
With stores in 31 states and Canada plus a merger with Cabela's in the works, Bass Pro Shops is making a bigger splash than ever. Bob Ziehmer, the new senior director of conservation for Bass Pro, and Jack Wlezien, director of communications, share a peek inside the outdoor retailer's playbook.
Connecting Locally
From small business owner to international retailer, founder Johnny Morris hasn't lost sight of where he lives, and the community benefits. Bass Pro is not only the fifth largest area employer, but it also works with local artists and businesses for projects at the national headquarters and other related properties. For instance, area residents Daniel Schwartz and family helped reconstruct Arnie's Barn and worked on timber framing at Top of the Rock Ozarks Heritage Preserve. Visitors to Bass Pro and related destinations bring tourism dollars to the Ozarks, Ziehmer says, "and that will continue to benefit southwest Missouri in a number of ways."
Tackle and boats are still core to the Bass Pro Shops brand.
Branding
Walk into any store and you immediately recognize the consistent Johnny Morris touch. "Really, the brand is a lifestyle that we try to offer to customers at a great value," Ziehmer says. More than that, it represents a stewardship for outdoors conservation. "We know the future of the outdoor recreation industry is more dependent today than ever before on how the natural resources are managed," he says. 
It does come back to the mission, but it's also about listening to your customers and looking for ways you can advance your mission while providing excellent service."—Bob Ziehmer, Bass Pro Shops senior director of conservation
Giving back
Bass Pro, which donates millions of dollars annually, helps connect people to the outdoors through events like the annual Outdoor Days and support of local organizations including Big Brothers Big Sisters of the Ozarks, Boy Scouts of America Ozarks Trails Council, Camp Barnabas, Ozark Greenways and Springfield Public Schools. Local conservation groups include the James River Basin Partnership, Ozarks Water Watch and Watershed Committee of the Ozarks. "We want individuals of all ages, all skills and all backgrounds to more fully connect with the outdoors," Ziehmer says. 
Johnny Morris fishes in a tournament during the business's early days.
Diversifying
The company mission is to enjoy, love and conserve the outdoors and Morris and his team provide opportunities for that through destination amenities such as Top of the Rock and Big Cedar Lodge; through conservation efforts and education including Wonders of Wildlife National Museum and Aquarium, opening this year; and through partnerships and manufacturing. In 1978, Morris launched White River Marine Group, which produces Tracker fishing boats. And Bass Pro has sponsored NASCAR since 1998. NASCAR fans love the outdoors, and it's a good way to showcase the brand to millions, Wlezien says. "It does come back to the mission, but it's also about listening to your customers and looking for ways you can advance your mission while providing excellent service," Ziehmer says.
Expanding
When scouting store locations, the company looks for communities that are passionate about the outdoors, like recently added Vancouver. They also look for activity through catalog sales to "identify locations where there is strong demand or familiarity with the brand," Ziehmer says. Regarding the pending merger with Cabela's, Ziehmer is excited to unite with a brand that has a similar mission. "Both companies were started by individuals with humble beginnings and a commitment to the outdoors and to recognizing that we need to invest back."


---
Jack Stack's renowned open-book management style sets the tone for his $529.8 million company. Springfield Remanufacturing Corporation and its holdings operate through transparency, empowering associates to make decisions that propel the business forward. Using Stack's methods—the subject of his book and coaching program, The Great Game of Business—associates learn the "rules" of business and how to apply them.
But beyond its transparency, SRC has succeeded in weathering four recessions through diversification, forecasting and preparing a strong balance sheet.
Jessica Nimmo and Adrian Rohman work on engine starters at the SRC plant on East Sunshine in Springfield.
While launching the company, Stack learned building a company was not the same as building an engine, the first product SRC remanufactured. It was about seeing that engine a whole new way. They didn't just have one business tied to that engine, Stack says. "Don't we make starters and alternators and turbo changers and fuel systems?" he says. "How come we're not selling those? It's like everybody's mind just opened up."
A new emphasis on diversified thinking was key, Stack says, to SRC's success. "We didn't stay in our core competencies like they tell everybody to do," he says. "The minute we got into core competencies, our attitude was to diversify as quickly as possible." Throughout the years, SRC has been involved in more than 60 business holdings, including book publishing, banking, medical instruments, software and commercial properties. Currently, it has 26 holdings.
"The minute we got into core competencies, our attitude was to diversify as quickly as possible."—Jack Stack, founder, president and CEO of SRC Holdings Corp.
The advantages are clear considering changes in the markets over the years. For instance, the company did well in oil and gas until the recent downturn. If it would have sunk everything into that industry, "we'd be bankrupt right now," Stack says.
Lack of forecast planning also hurts companies. He's particularly concerned about startups whose owners build a company with the only goal to flip it in five years. "There are 6,000 startups in the United States every single year, and only 15 percent make it five years," he says.
The unwillingness to look out three, four or five years is what Stack calls a recipe for disaster. Entrepreneurs pay too much to market products that don't yet exist, rack up loans or credit card debt, lease fancy offices and buy cars, then when they get their first purchase order, he says, "They can't go much beyond that without having to get more capital."
SRC employees at the company's electrical facility use these gears in remanufactured engine starters.
They end up with significant debt and can't grow the company "because they are servicing the debt for the rest of their lives." His advice is this: "Any dollar that you raise, make sure it returns value."
Forecasting and saving capital helped Stack double his company within five years after each of four recessions, he says. During these recessions, the business was positioned to purchase property or make acquisitions for cents on the dollar. 
SRC associates learn all that and more. From the beginning, putting people first inspired open-book management, Stack says. It's also why SRC associates are active in community service with more than 100 associates serving on boards and in nonprofits. "We donate a lot of money," Stack says. "We donate a lot of time." In 2016, the company contributed nearly $390,000 to the community.
That dovetails with his business philosophy. "It's not only about saving your business," he says, "It's about saving your community." 


---
Prime Inc. was founded by Robert Low in 1970 with a single truck. Today the transportation industry giant has more than 9,000 team members and $1 billion-plus in revenue. Controller Darrel Hopkins shares five pivotal actions that made Prime the success it is today.
When:1981
What: Prime filed bankruptcy after it couldn't cover the debt service when interest rates skyrocketed.
Result: Bankruptcy gave birth to Prime's employee-ownership business model. After bankruptcy, Low hired independent contractors to haul freight. From there the notion of employee ownership spread to in-house team members. "They created, effectively, an incentive program and a model that said, 'You're an owner, and we're truly empowering you,'" Hopkins explains. "That's really the model that we've built on from that day." 
The Takeaway: A sense of ownership motivates associates to help the company succeed.
"They created, effectively, an incentive program and a model that said, 'You're an owner, and we're truly empowering you,'"—Darrel Hopkins, Prime Inc. controller
When:1993
What: Prime established its affiliate company, Success Leasing.
Result:Success Leasing provides new tractor trucks for lease to drivers. Many independent contractors owned old, beat-up equipment or had no equipment. Success Leasing created an easier entrance into the business, Hopkins says, by providing new equipment for no money down.
The Takeaway: Sometimes you must invest money to save money. Success Leasing helped Prime improve its service and grow business by attracting more independent drivers, reducing the cost of maintenance and creating more consistency in truck load weights, all economically beneficial to the company.
Prime Inc.'s Triple Crown Detail Shop began in 1999.
When: 2000
What: Prime invested more than $9 million to construct its Millennium building.
Result: In the building, associates and drivers enjoy in-house services including a fitness center, hair salon, doctor's office, movie theater, cafe, day care, convenience store, laundry service, post office and even driver bunk rooms. Leadership at Prime recognized they needed to show drivers and associates how much they were valued in terms of job satisfaction, retention, health and increased production. Hopkins says the investment has paid off triple what they put into it. 
The Takeaway: Companies are short-sighted if they don't factor in soft benefits, including job satisfaction and increased productivity, of investing in their people.  
When: 2002–2007
What: Prime acquired Roccor International, a trucking company out of Oklahoma, and four other companies.
Result: These purchases significantly impacted revenue and accelerated growth to Prime's current size. 
The Takeaway: Lessons from the first acquisition led Prime to establish better methods to assimilate new associates into company culture. Among them are sending a welcome team to provide information about Prime, establishing a three-day orientation, honoring a standing program if it's better than Prime's for the remainder of a driver's career and keeping a team on-site for several months to ensure a smooth transition.
Prime's drivers use three types of trucks, tankers (seen here), flatbeds and reefers.
When: 2009–2010
What: The Prime Student Driver (PSD) program was established.
Result: New independent drivers were training at poorly run truck driving schools that provided little time on the road, Hopkins says. The PSD program helps drivers get their commercial driver's license and learn to operate a truck to Prime's standards. They get hours behind the wheel in simulators and are matched with experienced drivers for five weeks of on-the-road training. The school is free if drivers work for Prime at least a year.
The Takeaway: When external resources don't meet basic necessary standards, developing an in-house solution could be more cost-effective and produce better results. Before PSD, Prime spent millions to attract drivers and pay for external training. By offering a better opportunity, Prime gets quality drivers, reduces costs and keeps money spent within their own company. "It's probably been one of the most important programs we put in place in our company," Hopkins says. "We wouldn't be the size we are today without it."


---
Even Bigger Dogs
In addition to supporting thriving homegrown businesses, 417-land is a sought-after location for national and international companies.
Expedia Inc.
Online travel giant Expedia Inc. has grown immensely since the 1996 launch of expedia.com. Among the Microsoft spinoff's 200-plus booking websites are Hotels.com, Orbitz, Trivago and Travelocity. Keeping these brands up and running understandably requires a large workforce, part of which is based in Springfield. The company, headquartered in Bellevue, Washington, first arrived in 417-land in 2001 and has since become one of the largest employers in Springfield and one of the largest Expedia locations. In 2010, Expedia moved to the old Springfield-Branson National Airport after a large renovation and added an additional 500 employees. Three years later, the company hired another 100 people mostly for positions in Global Financial Operations support services. In total, Expedia employs nearly 1,000 people here in 417-land.


John Deere Reman
Arguably the most well-known name in farm equipment, John Deere was founded in 1837 and has grown into a worldwide operation that serves multiple industries. A key part of the Moline, Illinois–based company is its remanufacturing facilities, and two of those are here in Springfield. 
John Deere Reman–Springfield, which works within the construction and forestry division, opened in 1999 as a joint venture between John Deere and SRC. Then, in 2008, John Deere purchased SRC's portion of the business. In February 2016, the business acquired what is now John Deere Reman–Electronics. With an additional warehouse in Strafford, John Deere employs around 425 people in the area and is committed to the next generation of workers, too.
John Deere Reman regularly gives tours to groups of FFA students and was one of the companies that worked with Springfield Public Schools to develop GO CAPS. Becky Yeargan, a human resources representative at John Deere Reman–Springfield, says the company served on the committee to help interview the program's first teachers. The facility is now hosting its second group of students who work on-site with engineers to make process improvements.


T-Mobile
When customers call T-Mobile's customer support hotline, there's a chance they're talking with one of the hundreds of employees at the company's Springfield technical care center. The location, which opened in May 2006, is the company's only call center in Missouri and employs more than 780 people. Like any good business, the wireless network, headquartered in Bellevue, Washington, is committed to not only improving the lives of its customers but also its own employees.
This starts with the T-Mobile's commitment to promoting diversity and inclusion within the office. Employees have access to resources through six diversity networks, such as the Pride & Allies, Multicultural and Women's leadership networks. The business also devotes resources to building its employees' leadership skills. "Growing and developing our leaders is also critical to our success," says Roland Finch, director of the Springfield facility. "We are committed at T-Mobile to having a 90 percent internal promotion rate." To meet that goal, the call center has its own leadership development department. At press time, the call center had promoted 35 people in 2016, the highest number within the past five years.


Chase Card Services
For nearly two decades, financial titan Chase Card Services has had a call center in Springfield. The 1,500-plus employees make the company one of the top private employers in the city. The workers respond to more than 1 million calls from across the country per month and still have time to give back the community. Their efforts include multiple projects with Ozarks Food Harvest including raising nearly six tons of food in one year and the nonprofit's backpack program. Chase employees also have worked with local high school students through the Chase Leadership Academy to teach financial literacy and other skills. 


The Kraft Heinz Co.
Although not a local venture, The Kraft Heinz Co. has long been a part of 417-land's business ecosystem. The No. 5 food and beverage company in the world has had a manufacturing plant in Springfield for more than 75 years. The facility produces Kraft cheeses among other items.
Just after the 2015 merger between Kraft Foods Group Inc. and H.J. Heinz Co., the joint company announced thousands of layoffs, but Springfield came out unscathed. Then in 2016, Springfield City Council approved bonds to attract further investment from Kraft Heinz with the addition of eight new production lines and roughly 100 jobs. Kraft Heinz employs about 1,000 people at the facility.


Tyson Foods Inc.
Across the Arkansas border resides a world leader in chicken, beef and pork production: Tyson Foods Inc. But since its beginning in 1935, the company has conducted business in Missouri. Founder John W. Tyson started the business by hauling chickens to markets in Kansas City and St. Louis.
Of the six plants Tyson operates in the Show-Me State, two are in 417-land. The company acquired a poultry processing plant in Monett in 1969. That facility still employs 750 people who work in the company's chicken and animal nutrition sectors. Another plant in Noel has 1,600 employees and is also focused on the chicken industry. Tyson also had a poultry processing operation in Neosho for nearly 20 years after acquiring Honeybear Foods Inc. in 1981. 
These plants, along with the company's other operations in Missouri, contribute to billions of dollars in sales each year and more than 99 million pounds of food donated since 2000 to hunger and disaster relief efforts.


3M
Although 3M probably makes you think about office supplies, the St. Paul, Minnesota-based company actually got its start in 1902 as the Minnesota Mining and Manufacturing Co. The mining business wasn't as successful as the owners hoped, so they switched their focus and began developing products that are now used in homes and businesses around the world.
The Springfield plant opened in 1967 and works within the industrial business group to produce adhesives and sealants used in many industries such as construction, sports equipment, electronics and transportation. "Every time you step on an airplane and you travel, think about 3M Springfield because it's likely that there's adhesives holding the plane together as you fly," plant manager Frederick James said at a recent Springfield City Council meeting.
At press time, 3M Springfield had 335 employees but was vying for an expansion within the company that would add up to 92 additional jobs. All 3M employees, including those in Springfield, contribute to the company's sustainability. The business launched its 3P program, which stands for Pollution Prevention Pays, in 1975 to seek input from employees on how to reduce waste. In 2015, Springfield workers set a record with 21 3P programs. Company-wide, this program has prevented more than 2 million tons of pollutants while saving about $1.9 billion.