Offices
What's On Brent Dunn's Desk?
This spring, Missouri State University announced that it had convinced Brent Dunn, vice president for university advancement, to postpone retirement for a few more years. Dunn gave us a tour of his office.
By Lucie Amberg
Jul 2023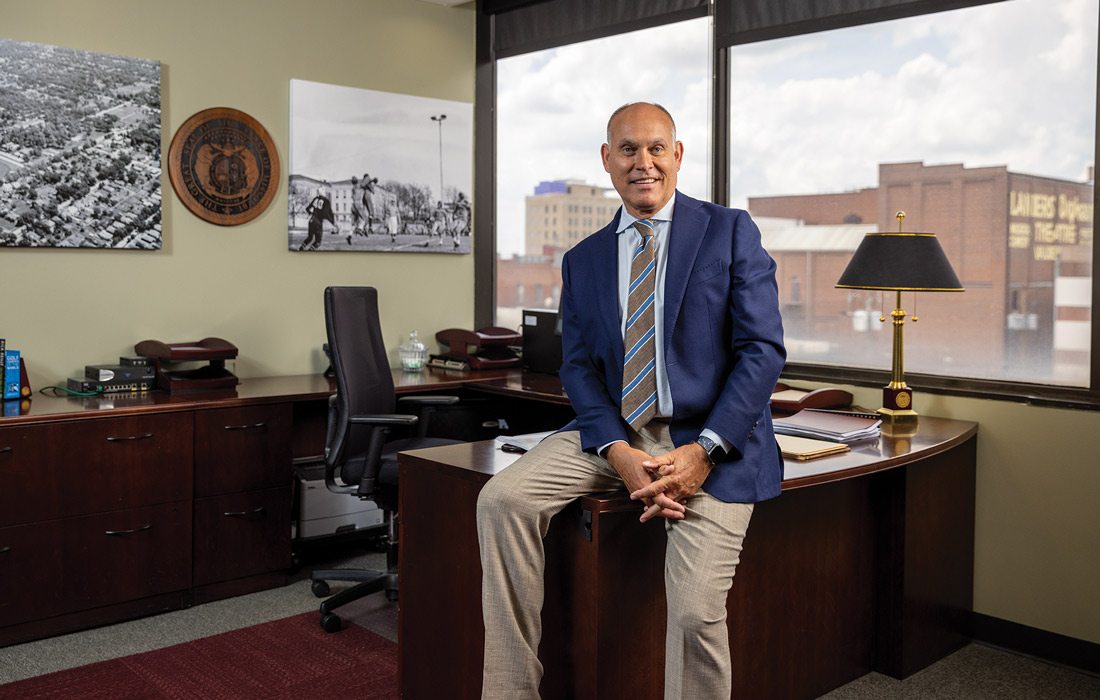 Tee Time
If you're in Dunn's office, you can't miss his enthusiasm for golf. "I could play every day," he says. "My brother taught me how to play when I was young. I played in high school at Central, and I kept it up." When his son, Dalton, graduated from high school, Dunn recalls, "We said, 'Where do you want to go for your senior trip?' He said, 'Ireland and Scotland,'" which included a stop at the famous St. Andrews Links.  
Home Run 
Dunn says that more than 10,000 417-landers attended the opening night of Hammons Field on April 2, 2004. They received mini-bats to commemorate the event, and there were a few full-sized bats, like this one.
Stamp of Approval 
Dunn has taken several trips to China, where Missouri State has a campus. One one visit, he was given this customized stamp of his name in Chinese characters. The blue and white porcelain box holds the ink for the stamp. 
Father and Son
Dunn makes sure this photo of him with his dad holds a prominent place in his office. "He was our photographer," Dunn says, so he wasn't often in front of the camera. He died not long after this photo was taken, so it's the only one Dunn has of the two of them together. 
Making the Cut 
Fifteen years ago, these scissors cut the ribbon on Missouri State's ambitious new arena, now called Great Southern Bank Arena.