Offices
Firm Meets Function at Husch Blackwell
Out with the old and in with the new! When Husch Blackwell moved from Hammons Tower—the firm's home for 27 years—to a new office space in southeast Springfield, the firm took the opportunity to rethink what it needed.
by Colin Shea Denniston
May 2023
In its new home, Husch Blackwell prioritized open, collaborative workspaces that merge form with function and ease with elegance. We spoke to Bryan Wade, managing partner of Husch Blackwell's Springfield office, and Cara Eichenberger, regional office administrator, about the new space
1. Upon entering Husch Blackwell's office—which covers the entire third floor of the recently constructed building on East Sunshine Street—visitors are met with stately yet inviting lobby space, featuring a large front desk with a modern chandelier placed just off-center.
2. The stylishly designed flex space sits right outside of the firm's largest conference room and steps away from the café. It's an ideal spot to relax during the lunch hour or to have a quick side conversation during a large meeting. "This is my favorite space in the whole office," Eichenberger says. "I love the way it looks; I love the way it feels."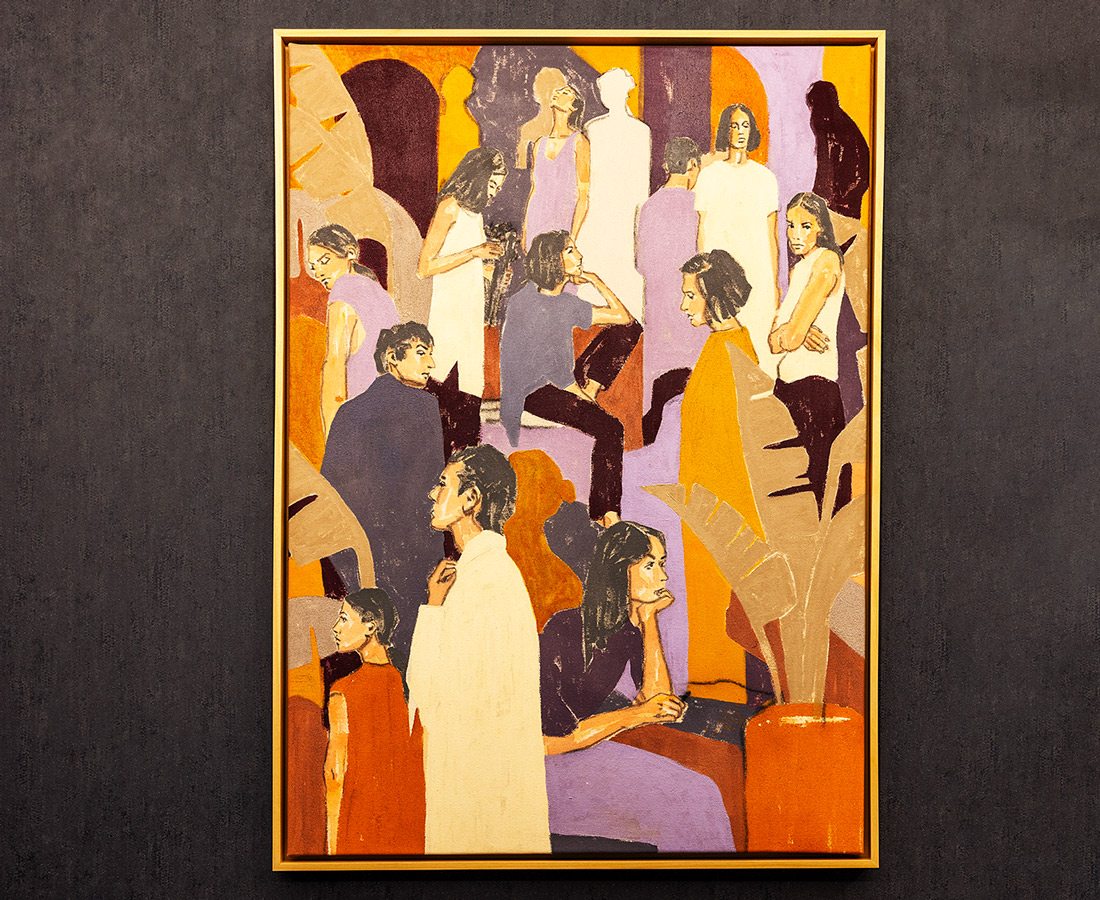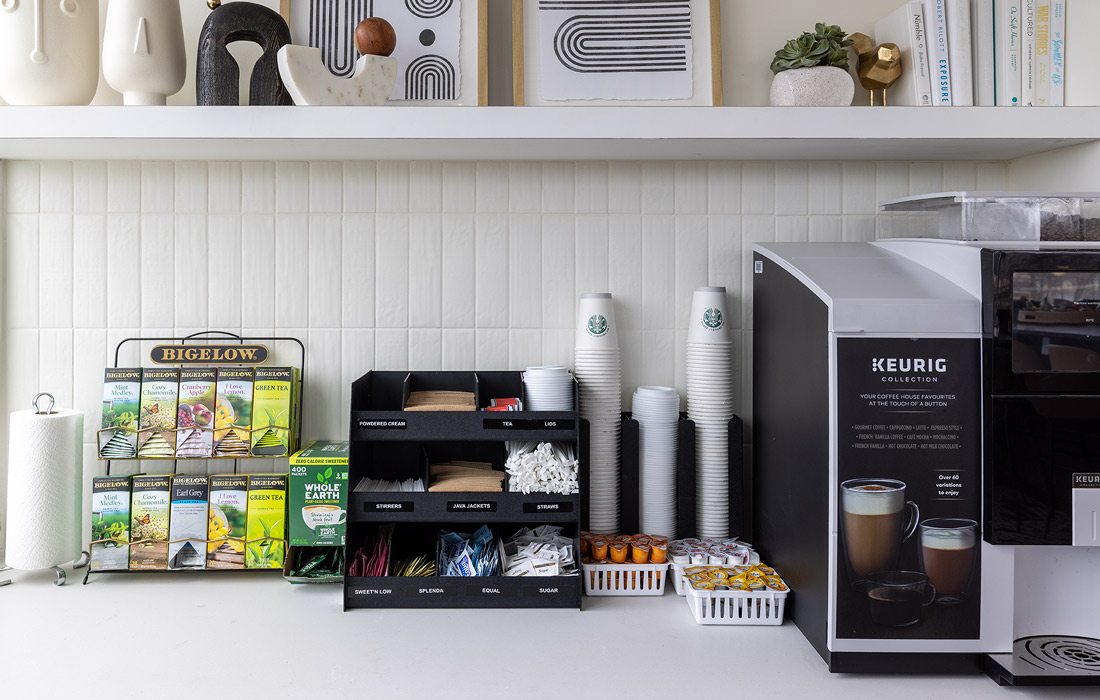 3. "Everything's just a little different, and that's what was so wonderful about it," says Eichenberger about the variety of artwork throughout the office, including this piece by Erna Uçar. The firm made a point of focusing on artist diversity, selecting art by women and artists of color. "There's also a variety of types of art," Eichenberger adds. "It's not all just paintings on canvas."
4. In addition to the kitchen area, the café has ample seating—both table and booth seating—a large flatscreen TV and a fully stocked coffee bar. "It's like a fancy gas station coffee machine," Wade laughs.
5. The northeast corner of the office houses the café, which feels more like a hip San Diego bar than a law firm's break room. "We just had a big barbecue out on the patio, and it was too chilly, so everybody came in here and ate," Eichenberger says. "[It's] a beautiful place to eat." Wade adds that the common areas, including the stylish café, are "huge positives for both the employees who came over from Hammons and the new people that have come on since we moved here."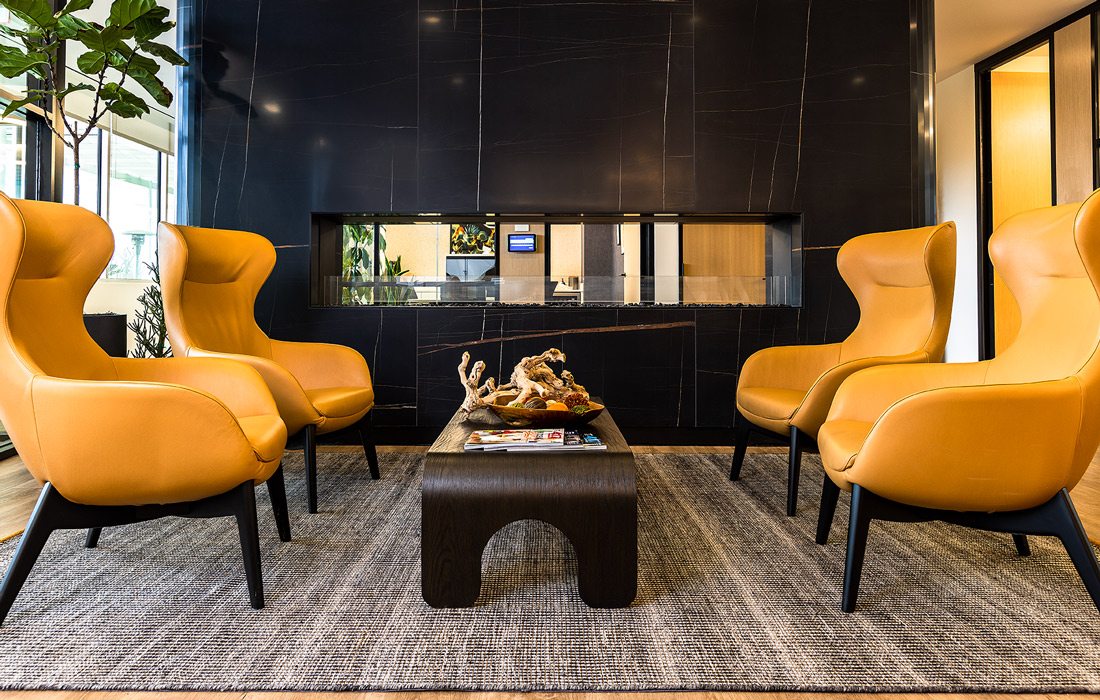 6. Anchoring the main lobby is the seating area, with large-scale fireplace and four handsomely designed chairs. The mix of textures and generally neutral color palette help make the large space feel welcoming and a bit more intimate. "It was very important to us to stay warm and approachable and still be high-end like the rest of the firm," Eichenberger says.
7. "Libraries have changed over the years," explains Wade. "It used to be that you'd see a much larger room than this with lots of books. [Now] it's all electronic or maintained electronically. All that's done on your computer or laptop, so there really isn't a huge necessity for a large library." The library design is a prime example of the firm's goal of having a more efficient workspace. "By having a smaller library, you have more room for offices or other [spaces]," Wade says.