Offices
BRP Architects Creates a Gateway to Downtown Springfield
When the Downtown Community Improvement District (CID) needed a new space, BRP Architects turned a vacant building into a gateway to downtown.
By Jamie Thomas
Sep 2021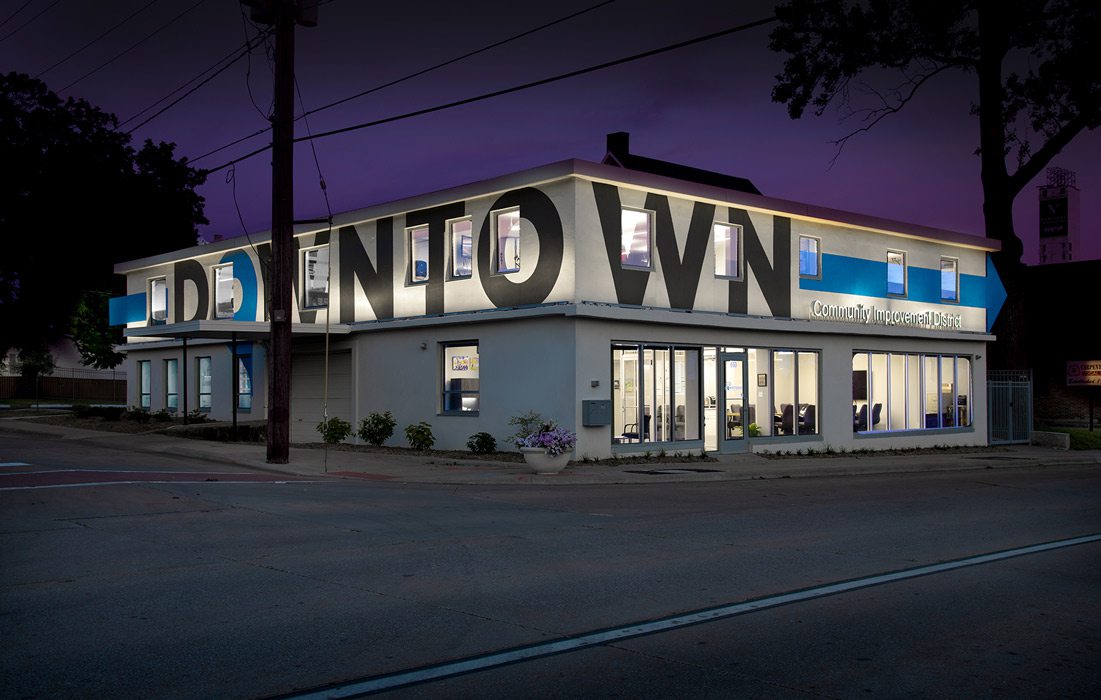 The Springfield Downtown Community Improvement District (CID) started a search for a new headquarters in 2018, says CID Chairman Chris Ball. "I was looking for somewhere that could provide office space and storage space for cleanup and maintenance equipment under one roof," he says.
The search led the CID to a vacant building on the intersection of Boonville and Chestnut Expressway. The building was built in the 1950s as the first Harley-Davidson dealership in Springfield, according to Chris Swan, architect and managing partner at BRP Architects. BRP Architects was the firm hired by the Downtown CID to renovate the building. "They were searching for a location downtown to serve two main purposes," Swan says. "To house the maintenance and shop area for the equipment that the CID uses to maintain downtown [and] to consolidate that with administrative offices."
At the outset, the vacant building was largely open space, "sort of like a big concrete box" as described by Ball. BRP Architects retained some of the industrial look of the larger storage areas, while capitalizing on the more sectioned off areas to make distinct spaces. "We intentionally left most of the ceilings and spaces open," Swan says. "We wanted to reflect the inherent character of the building, so you could see how it was constructed."
As for the CID offices, those are now housed on the first floor, right along Boonville.  "That serves two purposes," Swan says. "It shows the CID's public face, and it allows natural daylight into the offices." Along with new plumbing and electrical installation, the project was largely completed in November of 2019.
Perhaps the most noticeable update is the signage, with the building now displaying "Downtown" in large  typeface. "I think the unique design challenge was to somehow articulate this building in a cost effective, bold way." Swan says. "The way that the building was originally constructed, with the little shades that come out both at the roof and at the second floor, creates guidelines like a rule sheet of paper to host those super graphics."
The CID building now serves as a gateway to downtown, and it also has office space that's being rented to Ozark Greenways and Ball's own architecture firm, Jack Ball Architects, P.C.