Small to Mid-Sized
Q&A with Jeremy Wells and Dustin Myers of The Ozarker Lodge
A brand, a destination, a new experience—that's what Longitude˚ branding partners Jeremy Wells and Dustin Myers created with The Ozarker Lodge. Wells shares how he hopes the new hospitality brand will elevate and celebrate the Ozark Mountains for generati
By Ren Bishop
Sep 2023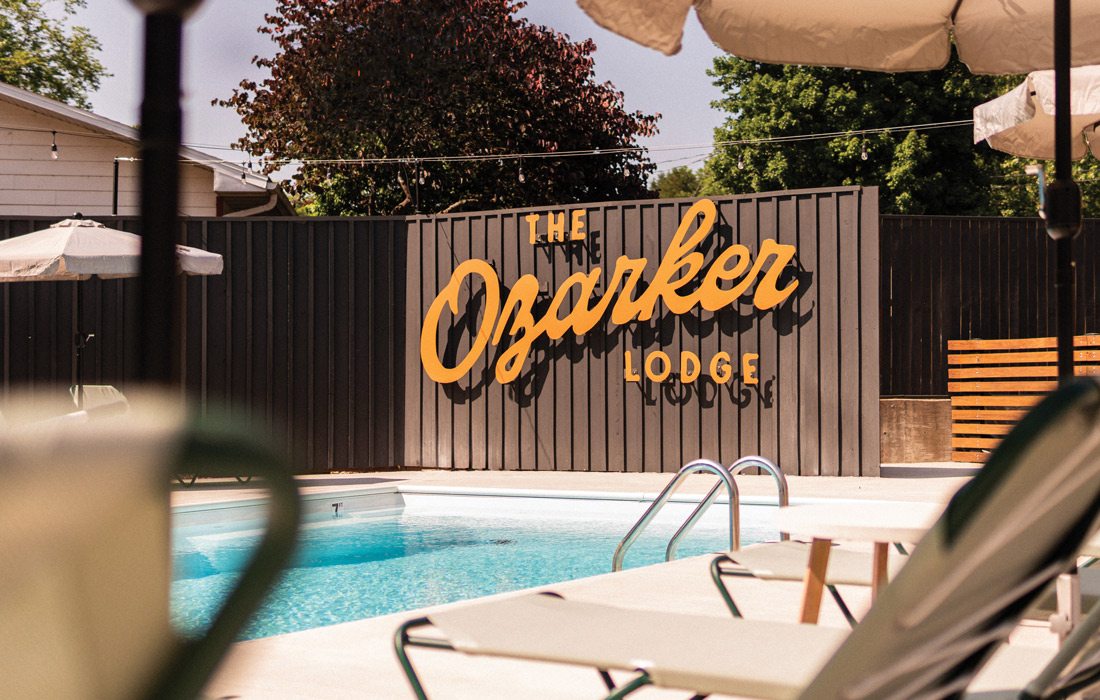 Biz 417: The Ozarker Lodge is the first of its kind in Branson, offering a retro motor lodge experience for families looking for a modern adventure. Where did the idea come from?
Jeremy Wells: I think the idea first formed from the work we do at Longitude˚. We do a lot of hospitality and resort-type projects all over the world, and throughout the years, we formed a love for the hotel and hospitality industry. We started working toward a dream, building relationships, learning, and in 2021, we found a property that had real potential. 
Biz 417: The Ozarker Lodge has a very specific identity and brand, hEarkening back to the great American Road Trip era of the 1950s and 1960s. Why this specific vibe?
J.W.: We saw these great, modern roadside hotels and motor lodges popping up all over the nation. We visited some on the coasts, and we knew there was huge potential for something like it in the Ozarks. I grew up in the Ozarks, and I have a lot of great memories of Branson from my own childhood. But now, younger families are looking for new experiences that they can drive to, hotels that are unique and have a sense of place. Moving forward to the next few decades for younger travelers, we're wanting to help guide that change. The Ozarker Lodge shows a glimpse of what the future could look like and should look like going forward. Not disparaging the past, but helping to elevate the market for the future.
Biz 417: You got your real estate license to better understand a hotel development from the ground up, but your background is in brand development. What came first, The Ozarker's brand or the aesthetic?
J.W.: Us being branding guys at Longitude˚, we did what we do best and started coming up with the story, brand and identity, envisioning that. We started there. In tandem with that, we started putting together some visuals, mood boards, concepts… A lot of people, when they're doing commercial real estate, they start with projections, underwriting and budgets, and we did that pretty quickly, but we started with the brand identity and the story. That helped us dial in the experience, the business and all the decisions along the way. We're always proponents of starting with branding discussions early on.
Biz 417: The 102 guest rooms are booked, and guests are raving about The Ozarker on social media. Ten years from now, what are your hopes for The Ozarker?
J.W.: My hope is that The Ozarker will show an example of what Branson hotels could be: a modern, relevant view of developments in the area. When we create a new space, we don't want to create a development that doesn't belong. This isn't a boutique hotel that should be in Boston or California; this hotel feels like it should be in the Ozark Mountains. It's been received well, and we're grateful to the collaborators and partners with other brands in the area who are seeing the need for different types of attractions. We're celebrating what makes Branson great—from saltwater taffy from Silver Dollar City for kids in our lobby to passes to Fritz's Adventure park given away on our social media. Branson is a destination, but for so many people, this is flyover country. Over the next 10 to 20 years, I'm excited to see how Branson continues to craft its own identity to attract more tourists and have an even greater economic impact on our region.