Small Businesses
Local Farms Create the Missouri Flower Exchange
With supply chains in disarray and environmental impact in mind, many 417-land florists have been looking for alternatives to big flower suppliers.
By Tessa Cooper
Sep 2022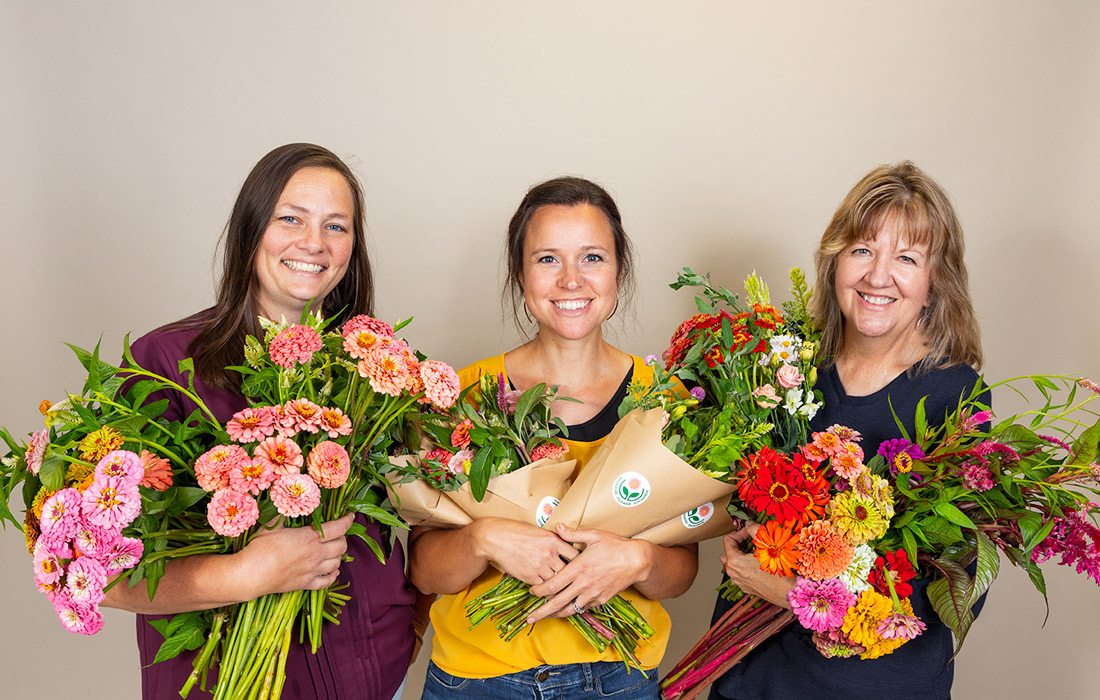 Delicate white dahlias, colorful zinnias and peony buds with expectantly large blooms. The Missouri Flower Exchange's weekly market is a wholesale paradise for local florists.
The Missouri Flower Exchange is the culmination of ideas from multiple southwest Missouri flower farmers. This collective, with 16 member farms, hosts weekly wholesale markets at Dancing Donkey Flower Farm in Rogersville. It receives orders online through the "Rooted Farmers" marketplace. In fact, it was a grant opportunity from Rooted Farmers that propelled the collective's plans for a wholesale market forward.  
Elizabeth Talbot of Cedar Street Farms, Ginny Randall of Dancing Donkey Flower Farm and Angela Morton of Meadowstems Flower Farm worked together to apply for the grant that made the collective's weekly markets and online selling platform possible. The grant provided $800 to cover the collective's startup fees, a one-year free membership to Rooted Farmers and ongoing mentorship meetings with the founder of Rooted Farmers. 
By bringing their resources together, the collective makes using local flowers more feasible. For example, if a florist needs two dozen pink ranunculus, they can be conveniently sourced from two different vendors at the same market. 
RosAmungThorns, Fleur Floral Studio and Queen City Blooms are just a few of the florists who've used the exchange, and they're doing more than supporting the local economy. "We don't use pesticides and we are conscious of the environment," says Talbot. "What a lot of people don't realize is that the majority of the flowers sold in the United States are imported from other countries. Flowers are not considered a food source, so there's no regulation on the amount of chemicals or what chemicals are sprayed on flowers to keep them looking perfect."
The collective remains true to its roots as a casual networking group. "It's neat to have other female entrepreneurs that we can share our favorite podcasts and tips and tricks with," says collective member Katie Davis, owner and farmer at Berries N Blooms. "We really have a mentality where we're better together. We really see the power in collaborating together rather than competing against each other."