Family-Owned
Kaleidescope Passes 50 Years
Last year, Kaleidoscope on East Sunshine Street celebrated 50 years in business.
By Ettie Berneking
Mar 2023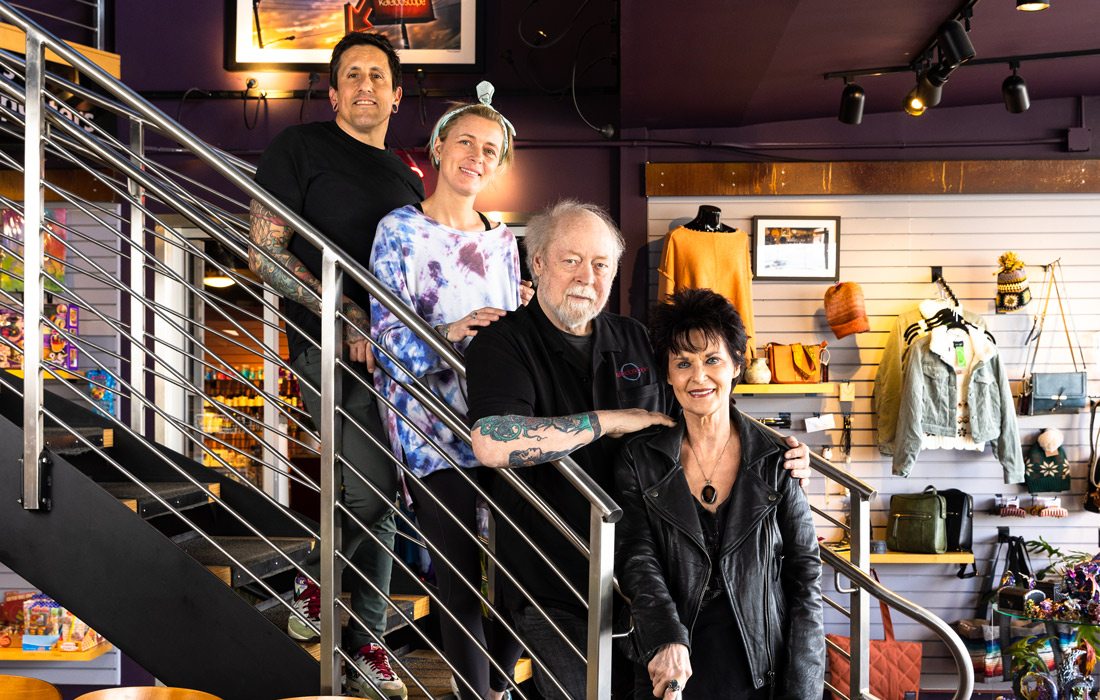 It's nearly impossible to say when Whitney Creehan decided she'd one day take over her parents' business. It just sort of happened, which is very on brand for Kaleidoscope. Whitney's parents, Tom and Pam Pierson, founded the store, and Tom has no clear answer for how it's thrived. "It's surreal," he says. "We started the store and were just thinking how we could get through the next week. Here we are 50 years later. It's pretty cool."
Whitney and her husband, Ben, are a big part of the store's 50-year success. In many ways, Whitney is a younger version of Tom. They tell the same jokes. They're both technology-averse, and they both love the business—or rather, they love the non-businessy vibes at Kaleidoscope. There are no official job titles. If you show up late to your morning shift a few times, you'll likely get moved to the night shift and thrive. If several people happen to ask off for the same day, Ben and Whitney adjust the store's hours rather than turn down someone's request. And back in the day, employees wrote their own paychecks. "We did that for 38 years," Tom says. "I never liked doing payroll, and I trusted our team."
The whole family agrees that the core of Kaleidoscope's success rests on the atmosphere. "If our employees have any problems, we try our best to take care of them," Tom says. "You shouldn't organize your life around work. You should organize your work to have a great life." If an employee's car isn't running, Whitney and Ben will get it towed to a shop. If someone's washer or dryer is on the fritz, they'll send a repair person. If the store brings in extra profit, the team gets bonuses. As a result, Whitney says the store's turnover is incredibly low. "For the first 40 years, we didn't really have applications," she says. "When we needed someone, we would ask our employees if they knew anyone who'd be a good fit." That's how Ben landed the job 25 years ago. He and Whitney were dating, and when Kaleidoscope needed help during the holidays, he jumped on it. "It was hard to get a job here," he says. "You had to know someone and everyone wanted to work here."
In its early days, Kaleidoscope had about eight people on the team. Now there are 26. Besides starting the process of handing the business over to Whitney and Ben, the store, which started out as a vinyl/head shop has become a retail and service hybrid. The in-house tattoo studio added a new line of customers, as did the adult store Eros. The real growth has happened in the piercing business. "We'll have a two- to three-hour wait on the weekends," Ben says. "So it ends up feeling like a coffee shop in here but without the coffee." Whitney says they work hard to make it a "bright and shiny" setting so that whole families feel comfortable coming in for ear piercing and to browse the incense, stickers and vinyl.
These days, Tom's in a few days a week to manage the phone and greet the regulars. Ben is Mr. Fix-It and one of the driving forces pushing new technology and merchandise, and Whitney is the de facto head of human resources—a role that doesn't come naturally because she's shy. "But I've learned from watching my parents," she says. "Our goal has always been to work our hardest to make accommodations for our team. We don't need carbon copies of me or Ben or Tom. We need everyone to bring something to the table, and we try to be a support system for the people who work for us."