Small to Mid-Sized
On the Rise with Sam Coryell, TLC Property Management
Coryell Collaborative Group used to have company meetings in a side room at Heritage Cafeteria. Now, the development group is building a $25 million multi-family housing and commercial hub at a site that's sentimental for 417-landers.
By Ren Bishop
Sep 2022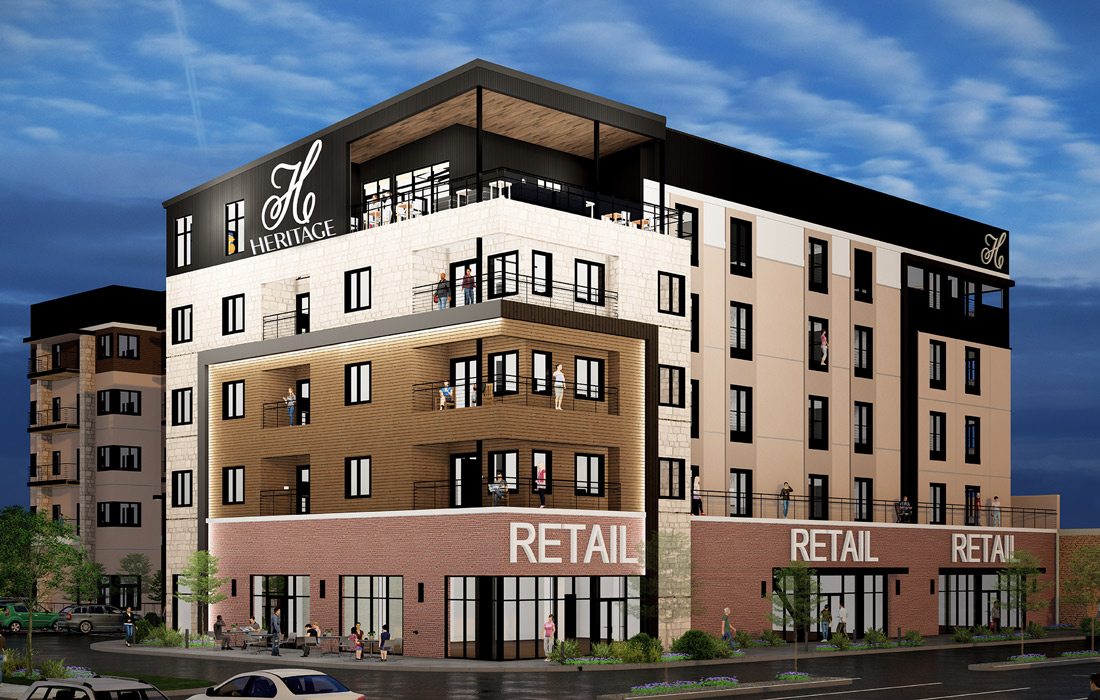 No, there will not be fried chicken. But there will be silver serving trays on display.
On May 3, Coryell Collaborative Group broke ground on Heritage, a $25 million multi-family complex and commercial space at Fremont and Battlefield Road. Coryell President Sam M. Coryell first considered the idea when he was driving north on Fremont Avenue in late 2019 and saw all those available parking spots, vacant since the Heritage Cafeteria closed in 2016.
"We initially attempted to salvage the foundation of the original building, but it was old and unable to support the scale of the development," says Coryell. "But we're still bringing that sense of place and community that I loved as a kid, when my family went to Heritage Cafeteria."
Named simply Heritage, the 95-unit apartment complex features nine different floor plans, with micro studios starting at $996 per month. From the smallest studio to a three-bedroom penthouse, all residents will have access to high-end amenities. A rooftop lounge will feature a virtual sports center, gathering spaces and a movie projector, and below, residents can charge their electric vehicles for free at charging stations. Steps from restaurants, retail establishments and an Andy's Frozen Custard, Coryell is excited to bring urban lifestyle living to the southside.
"Battlefield Road is an arterial road that has everything within walking distance, but it's in need of new development," says Coryell. "We're creating a five-story building that will help revitalize Battlefield Road and encourage residents and businesses to invest in one of Springfield's major thoroughfares, and this in-city development couldn't be a better place for businesses to thrive."
On Heritage's ground floor, 7,000 square feet of commercial space will open when residents move in November 2023. No businesses have committed yet, but a coffee shop and hair salon owners have reached out. Coryell knows the location's nearby services and great ingress/egress, or ability to get in and out, are attractive to business owners. 
But whatever comes next, the 56-year legacy of Heritage remains—its iconic Heritage Cafeteria sign and sense of welcoming community will be on display. But maybe not pie, laughs Coryell.
"If you don't know beans from apple butter from the Heritage Cafeteria, you're still really going to enjoy the building we're creating," says Coryell.