Small to Mid-Sized
isense Wants You to Get Better Sleep
Paul Longman, CEO and founder of isense, found an opportunity in the adjustable mattress market. After some trial and error, he tailored his business to best suit his customer base.
By Max Harvey
May 2022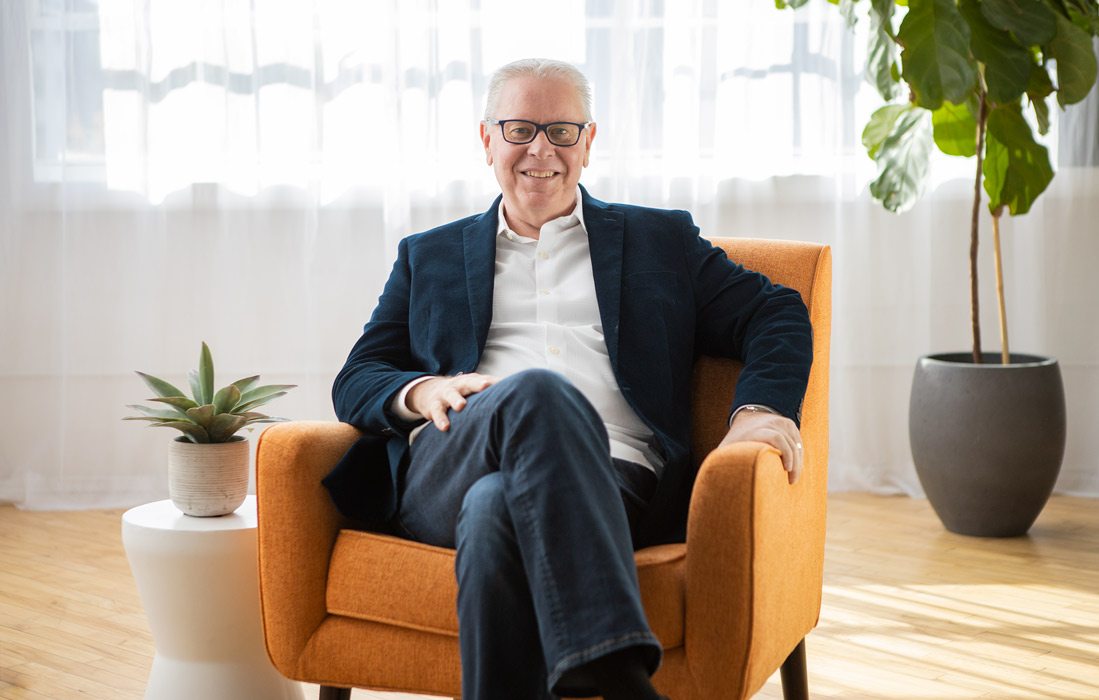 While working as CEO for the Australian mattress company A.H. Beard, Paul Longman kept hearing the same thing from the market: people loved the comfort of a conventional mattress but wanted the adjustability of an air bed. From this, Longman saw a growing opportunity to provide the best of both worlds in a mattress, and in 2017, he and his wife moved from Australia to Springfield to start isense. 
Mattresses with adjustable firmness typically use two adjustable air chambers for support with comfort layers built on top. What sets isense apart is it is built with not only the pocket coils and foam of a traditional mattress, but also 14 adjustable air chambers embedded into the foam. Using the isense app, you can remove air to make the mattress more plush, or add air, which compresses into the foam, to make it firm. Longman notes that while a traditional mattress is limited in its ability to change, an adjustable bed can grow and change with you, whether you're dealing with an injury or other variables. "That's the benefit of getting the bed home and finding what's right for you," Longman says. "What's right for you today is not necessarily what's going to be right for you over the course of the next 10 years."
For the first three years, Longman tried launching isense as a wholesale-to-retail business, with a heavy emphasis on isense's unique technology, but he just wasn't seeing the gains he'd hoped for. "We thought the innovation aligned, but we came to realize you need one of two things to really make it at the high end of this market: either a big fat checkbook to buy your way in or you need substantial traffic," Longman says. "We just had technology, and we realized that that wasn't enough." So, in January 2020 Longman repackaged isense as a direct-to-consumer online business.
Starting mere months before the COVID-19 pandemic also brought its own set of issues. Longman notes that they have had to deal with supply chain issues, keeping their local workers safe from COVID, and inflation, which drove up his cost of production by 50%, significantly impacting business growth in 2021. Even so, starting just before the pandemic also opened isense up to a whole new market of people who were shopping online for high-end adjustable mattresses. "We were shocked by the breadth of the demographic that was willing to spend that sort of money without going to a retail store," Longman says. "There's still a vast audience that are happy to buy online." 
To measure growth, Longman utilizes the "five M" principle to help set goals and targets for growing the business. These "M's" stand for the first million-dollar year, quarter, month, week, and day, scaling the business accordingly to hit whichever goal is next. Longman notes that isense had a million-dollar year in 2020, achieved a million-dollar quarter in the first three months of 2021, and then reached the million-dollar month in November 2021.
In addition to hitting this benchmark, isense expanded to a new, larger facility in Springfield late in 2021 to prepare for even more growth. This is all part of Longman's plan as he sets his sights on hitting the million-dollar week, launching a second brand (positioned as their volume line of mattresses) and continuing to grow in 2022.