Family-Owned
Insurors of the Ozarks' Family Legacy
Almost 90 years ago, Bryant Young's grandfather got his start in Springfield's insurance industry. Today, along with his father, he's poised to keep the family's business legacy alive.
by Susan Atteberry Smith
May 2021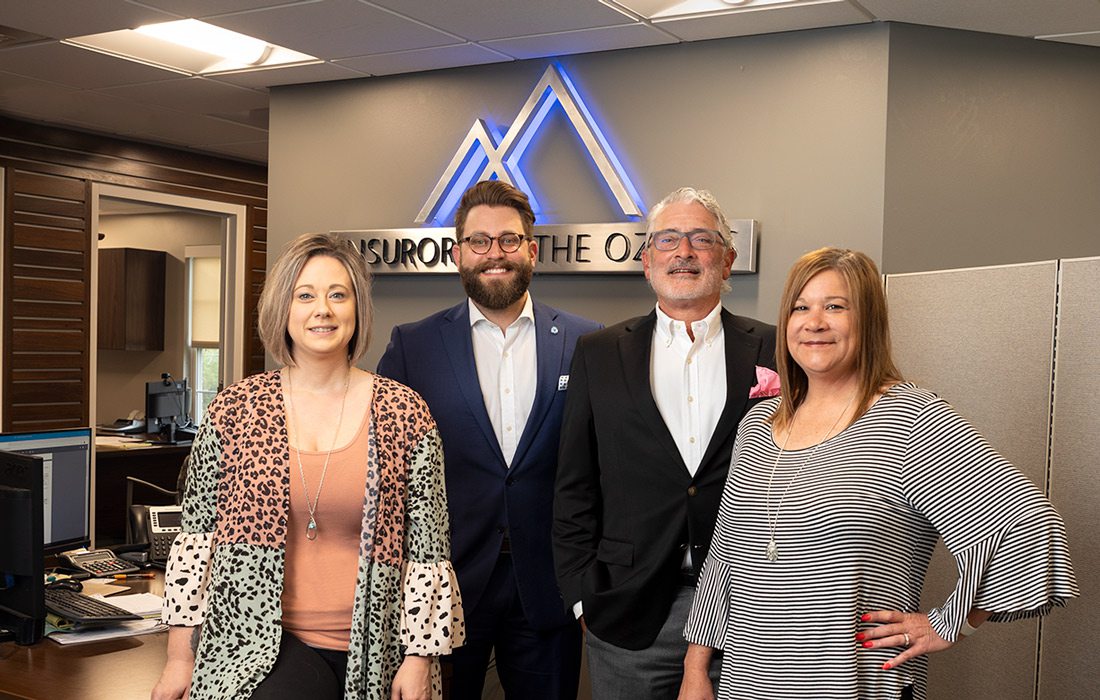 April Fool's Day may mean fun pranks, but for Greg Young and his son Bryant, there's no fooling about it: The holiday marks firsts for their multigenerational family business. For Greg and his late father, Bill, April 1, 1981, was the closing date on a loan to buy an insurance agency. For Bryant, April 1, 2012, was the day his parents, Greg and co-owner Beth, offered him a job with the family business, Insurors of the Ozarks.
Greg and Bryant chuckle about charting the same work anniversary, even if their reasons for going into the industry—as well as their business approaches—differ. "I basically bought my way into this business, and Bryant has been selling his way into the business," says Greg.
A Drury University business major in the early 1980s, Greg was unsure what to do after graduation when his father Bill, a Lincoln National Life Insurance agent since 1933, more or less pushed him into his own line of work. At the time, Bill was working in a Plaza Towers office just down the hall from Joe Kastendieck. Kastendieck would later become a well-known Kentucky Fried Chicken franchise owner, but was then working in insurance, too.
On first attempt, Bill failed to buy Kastendieck out of his insurance business. But, once Kastendieck discovered his interest in the chicken business, Greg was pulled into the family business and found himself, just a 20-year-old man, putting the family home down for collateral on the loan used to purchase Kastendieck's insurance company. "When we walked out of the closing, my dad handed me the keys and said, 'Don't lose my house,'" Greg says. "So for the next year I went to school full time and ran this little tiny insurance agency. And I did not lose my dad's house." That was the company that became Insurors of the Ozarks.
Greg's son Bryant says he always intended to go into insurance, even though his father didn't offer to make Insurors of the Ozarks his training ground. Though Bryant eventually joined the family business, he was determined to make his own way. By age 20, the 2007 Glendale High School graduate was a State Farm agent in Fayetteville completing a bachelor's in marketing at the University of Arkansas.
For a "brief second," Bryant says he considered law school and even took the admissions test, but his heart was in sales. Finally, there was an opening back home with his name on it—and not just because his name was Young. "I was ready to be back in Springfield, and the opportunity to come back to work for my family business was something I was very excited about," he says.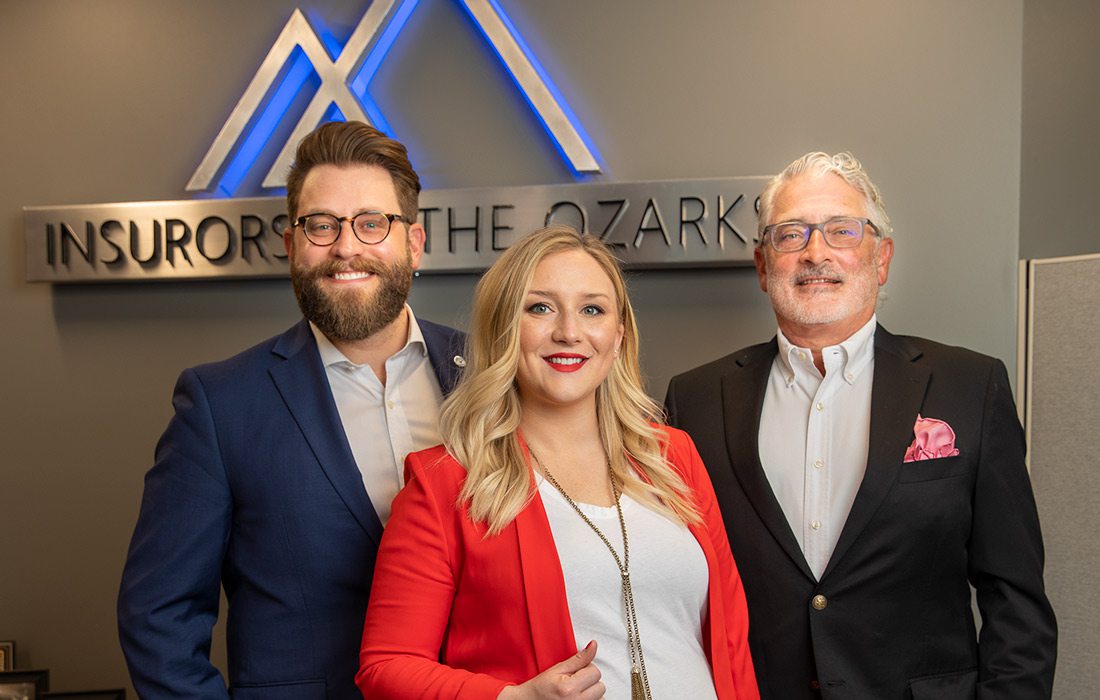 Bryant and his father say their strengths have dovetailed nicely since then. As director of business development, Bryant focuses on acquiring customers and selling products and services to existing ones. "There's no question: He's a much better salesman than I ever was," Greg says. Meanwhile, like his analytical father before him, Greg imparts industry knowledge and reminds Bryant to protect customers' risk. "My father's a cautious man, and I think that's partially because he's been a lifelong insurance agent," Bryant says.
The Youngs won't discuss revenues, but since the 1990s, when Insurors of the Ozarks purchased three other agencies to offer business, home, life, auto and umbrella policies, the company has assumed more risk. Much has changed in the industry since Greg's career began. When his parents, sister, and one full-time employee helped him get started, Greg says he "learned by doing" and that non-standard auto policies written with pen and paper were the "lifeblood" of his business.
With customer service agents Jennifer Fickbohm and Patricia Johnson and part-time sales agent John George, the small office remains comfortable—so much so that the father-son duo struggled at first to keep their working relationship professional. "For several years that was one of our growing pains—figuring out how to talk to each other as father and son and employer and employee," Bryant says. Greg agrees, saying both have "pretty strong personalities." To spare others, Bryant says they have "learned to close the door and not make a big ruckus when the rest of the office is around."
As agency principal, Greg says another difficult challenge for him was sharing authority. "I don't play well in the sandbox with others, and since 1982 I've been my own boss," he says. Still, while Bryant says carrying on the business after his father retires is "the kind of thing that keeps me up at night," his father doesn't lose sleep over his son being in charge. Like Bill, who once told him, "You could make it work," he thinks the same of his son.
"His attention to sales and making sure the customer is taken care of at the right price has been a breath of fresh air," Greg says. "I think once he completely wraps his thought processes around this agency, the skies are the limit. It's a matter of me letting go and him taking hold, basically."