Corporate
Global Effects of QPS
Dale Bourg founded a company to test pharmaceutical products for side effects. His son Brendon is now leading that company as part of an international organization.
By Mary Ellen Chiles
Jul 2022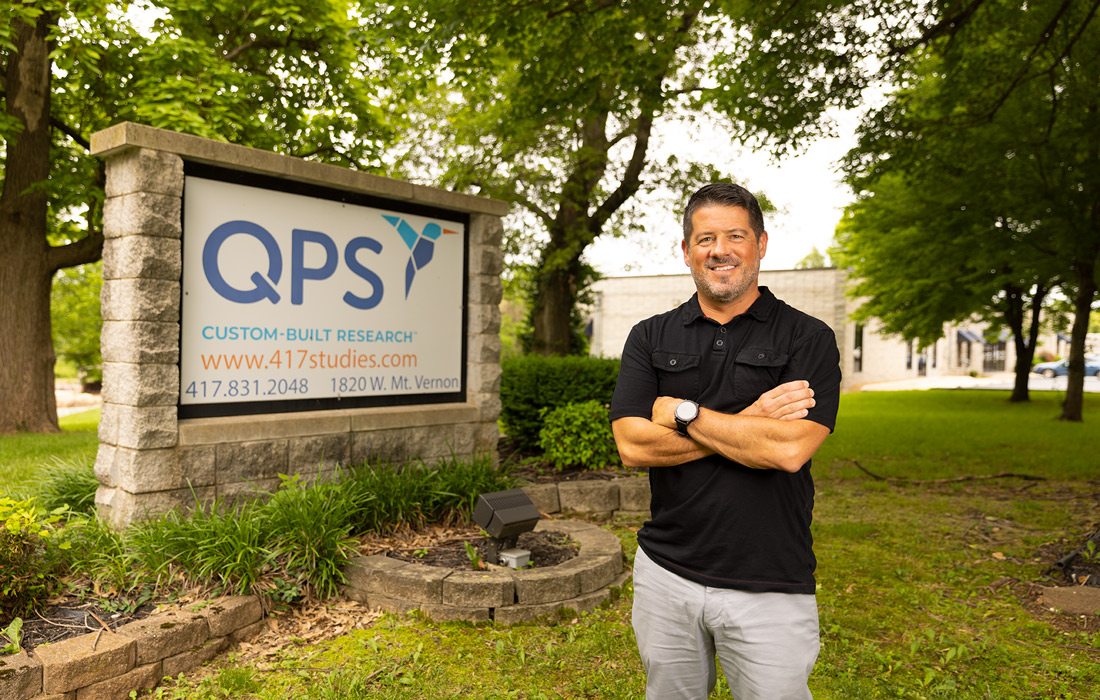 When Dale Bourg founded Bio-Kinetic Applications in 1994, he identified 417-land as a uniquely good spot for a clinical research organization, or CRO. The city had universities and a culture of hard work that fit with the company's mission. As Brendon Bourg, who now leads the company his father founded, says: "Springfield was untapped in terms of not having any CROs locally, and the southwest Missouri work ethic was going to help him grow."
The company, now known as QPS Missouri, works with pharmaceutical companies seeking FDA approval for products. QPS Missouri pays healthy participants to engage in clinical trials that are designed to identify potential adverse side effects in treatments. Right now, QPS is testing treatments for HIV vaccines, cough suppressants, corticosteroids and many more.
"We offer services to pharmaceutical companies," Bourg says. "Their products could be pharmaceutical drugs, needles, certain devices that can treat heart issues—stents, things like that. You know, when you look on the back of aspirin and it tells you the potential side effects of that drug? That's what we do here."
Bourg has worked with the company since the beginning, and he assumed leadership in 2016. He credits his father for setting the groundwork for a successful organization that could thrive for decades to come. "He started this from scratch in Springfield," Bourg says. "He started in the basement of one of our facilities. He laid the foundation for me to be able to succeed."
The company hit its big break when, as Bio-Kinetic Applications, it merged with QPS in 2008. Bourg says it was a natural match.   
"It was a perfect match because they process all of the plasma samples that we would ship. So, we draw the blood from the subjects, we process those samples, [and] those samples then were getting shipped to Delaware. And Delaware saw that and opened up the communication and said, 'Why don't we become a big CRO? Let's offer more than just processing and drawing of samples and bile analysis. Let's get all of the other bells and whistles that clients need,'" Bourg says.
QPS now has sites in India, Austria, China, Taiwan and the Netherlands and in multiple cities in the United States. Globally, QPS employs more than 2,500 people. QPS Missouri has more than 100 employees in Springfield and a 30,000-square-foot research facility with 240 beds. Recently, the company leased a second building, this one at 11,000 square feet.
Bourg says some of the research participants have been working with QPS Missouri since the company's early days. "Some have been doing studies for 20 years," he says. "They trust us, and we trust them. That's why we continue to keep our business here in Springfield."
Bourg considers classic Ozarks values, like trust, a fundamental part of QPS Missouri's culture. "If a client calls me, and asks me a question about a certain product, certain drug or certain way to run a study, my answer would be a free answer," says Bourg. This attitude is part of cultivating the relationship, he says, and it often pays off in future business.
But even as QPS Missouri remains deeply rooted in 417-land, it's part of a global organization, and that scope requires a great deal of flexibility. "You have to be ready at a moment's notice for a phone call at 2 a.m. because you're talking to someone in China, and you have to have people on the ground in those countries," he says. "You cannot grow if you're not on board with them and their time zone. You have to be incredibly flexible."