Corporate
Andy's Frozen Custard Partners with NASCAR
A NASCAR Xfinity race became an exceptional bonding experience for members of the Andy's Frozen Custard leadership and management team, who traveled to the Texas Motor Speedway to witness a race sponsored by one of southwest Missouri's favorite desserts.
By Sonia Guzman
Mar 2022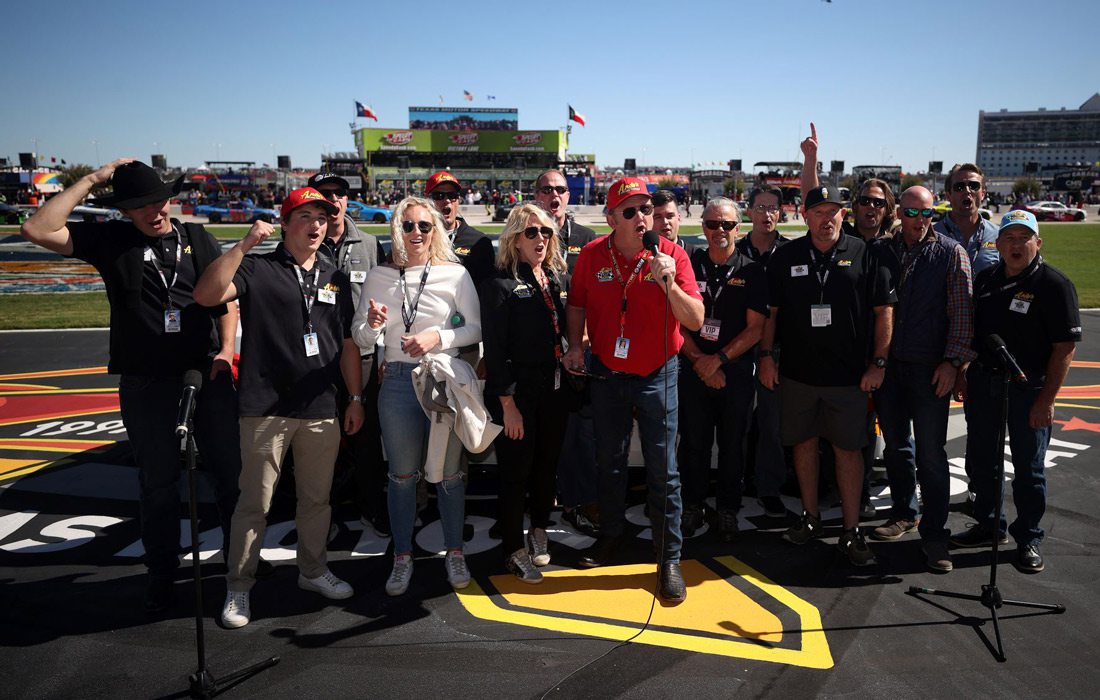 Racing has always been part of Andy Kuntz's life. His father, Andy's Frozen Custard co-founder John Kuntz, raced cars locally throughout Andy's childhood. His mother, Carol Kuntz, another co-founder, has always felt passionately about the sport. She is a regular at the Kansas Motor Speedway, and it's her enthusiasm for racing that drove the frozen custard company's collaboration with NASCAR.
The partnership began when Andy's Frozen Custard became the official frozen treat of the Texas Motor Speedway and with their sponsorship of drivers such as A.J. Allmendinger and Austin Dillon. In honor of Andy's upcoming 35th anniversary and the opening of its 100th store, Andy and Carol saw an opportunity to take the partnership with NASCAR to the next level. They, along with their franchisees, would sponsor a NASCAR Xfinity race and invite all store managers and franchise owners to celebrate the milestone.
Aside from the Kuntz family's love for NASCAR, there are plenty of other reasons that made the event a perfect fit for the company. "The people who participate in NASCAR are extremely family-oriented," he says. "They support each other and have each other's backs. Andy's is a family business culture, and NASCAR is a family sport."
So on October 16, 2021, the Andy's Frozen Custard 335 Xfinity took place at the Texas Motor Speedway. It was broadcast nationwide on NBC. This was the company's first sponsored race and their first national-level advertising campaign, two significant achievements for the rapidly growing frozen custard chain.
The race was more than an opportunity to get the Andy's name in front of a highly engaged, national audience; it was also the perfect opportunity for the Kuntz family to give back to their employees. "The individuals operating our stores are our most important people," Kuntz says. "It was our honor to offer them this new and exciting experience. Some of them had never been on a plane before, not to mention a NASCAR race."
Facilitating big, ambitious experiences like this one is a key part of nurturing positive company culture, Kuntz says. "It's a great way to energize your workforce," he says. "A motivated store manager will take that energy back to their store and amplify their employees. It is also a time for valuable camaraderie. You have experiences you could never have over the phone and build relationships that last long after the event is over."
Kuntz offers advice for other companies looking to think outside of the box when it comes to cultivating positive company culture. He says: "You have to do what's right for your company. Choose an event that highlights your core values and means something to your team." Andy's Frozen Custard plans to host a second annual Xfinity race in 2022 and eventually expand to other tracks and car sponsorships.