Meet the Makers: Crivelli Mack, Inc.
An eye for color and a knack for design helped Gerri Mack turn a whim into an international empire built on stylish coats.
By Julie Sedenko Davis | Photos By Kevin O'Riley
Apr 18 2016 at 3 a.m.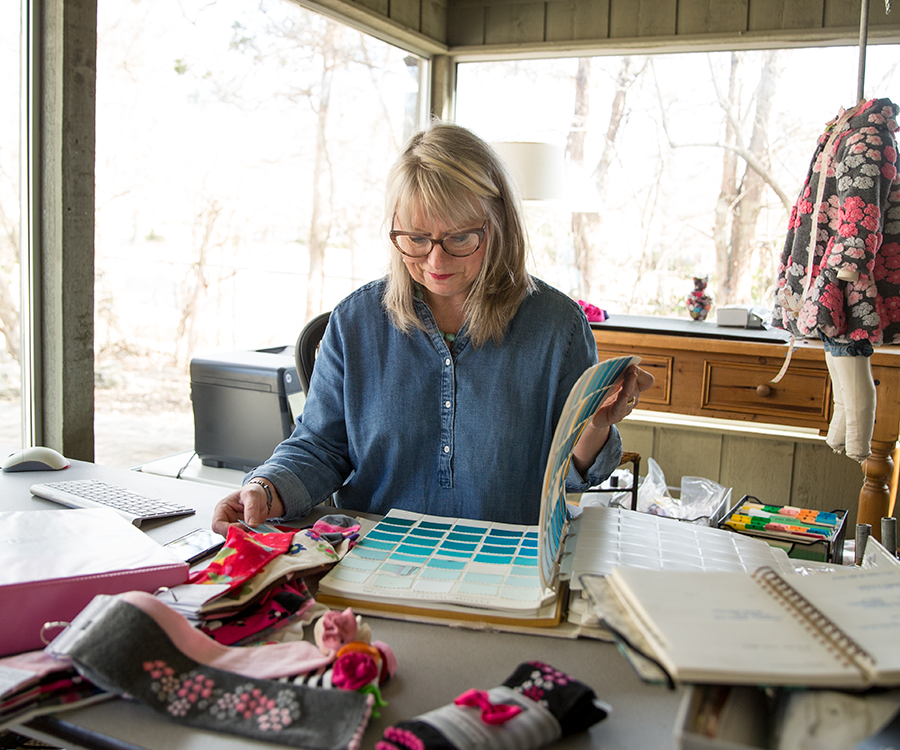 Some of the world's most famous kids (think Suri Cruise in People magazine) are photographed wearing coats designed by Springfield entrepreneur Gerri Mack. But when the former freelance writer started Crivelli Mack, Inc., she didn't imagine A-list celebrities. Instead, she pictured her three daughters.
Living in Minneapolis at the time, coats were an important wardrobe staple. Mack remembers stores filled with navy and black outerwear. Nothing bright. Nothing fun. Nothing like her girls. "If I had a muse, it was Pippi Longstocking," she says. "My girls were very girly girl but very capable of climbing a tree." Mack decided to create the products she wanted: soft, colorful coats that could withstand the playground as well as the washing machine.
At the time, Polartec was a brand new fabric featuring bold colors. Mack was fascinated by it and knew it belonged in the children's market. "I got ahold of the manufacturer and talked them into shipping it to me," she says.
Mack had plenty of vision but zero sewing ability. "People are astounded when they hear I don't sew," she says. Fortunately, she understood a vital business lesson. "Surround yourself with people that are really talented in areas that you're not an expert in," she says. Mack hired a pattern-maker and seamstress. Their first creation was the rose-buttoned garden jacket. It became one of her most popular designs and is still sold today.
"You can have all of the knowledge in the world, but if you don't sell anything, it doesn't do you any good." —Gerri Mack, owner of Crivelli Mack, Inc.
Mack limited her initial investment until she was sure of her product. The cheapest (and fastest) way to test its viability was renting a booth at a New York trade show. "I knew if I sat there for four days and nobody bought my line, it was time to get on with my life," she says. Mack did anything but sit. After four days, she had orders from Barney's New York and Saks 5th Avenue. "I knew I had something," Mack says. "I was in business automatically."
Mack was elated—and panicked. She didn't actually know how to run a clothing company. "I was a journalism major in college, so this was about as foreign as you could get," she explains. But, she adds, "You can have all of the knowledge in the world, but if you don't sell anything, it doesn't do you any good." She had the most important thing: sales.
Mack brought in Penny Crivelli, a former buyer for Mervyn's. The friendship turned into a partnership and the business became Crivelli Mack. "I'm creative, and she's the financial and sales end of it," Mack says.
High-end boutiques were Mack's original focus but, as retailers copied her ideas, she changed strategy. Today Crivelli Mack produces four lines at various price points: Mack & Co., Gurlybird, Olive & Lucy and Magpie. "We don't sell the same thing to everybody, but we take some of our strong sellers in high-end department stores and translate them down to mass merchants a year or two later," she says. 
As the visionary behind Crivelli Mack, Inc., Mack forges the path the company follows—a path which, for now, is leading to Springfield. In summer of 2016, Mack plans to open a warehouse location in town to house the product development and distribution sides of her ever-growing business. 
Behind the Design: Crivelli Mack
If you've ever looked at a product and wondered, "How did they do that?" we've got the answers for you. Crivelli Mack, Inc. Founder and Creative Director Gerri Mack walks you through the process, from inspiration to creation, of designing her popular children's coats.
The process for Mack begins in April with a simple folder on her desktop filled, with patterns, colors and pictures. She adds to the folder every day, and it's her source for inspiration. "I get inspired a lot by fabric," she says. In addition to visiting fabric factories, Mack attends fabric trade shows in Las Vegas, Los Angeles, Paris and China.  "Years ago, a rep told me that people, when they look at lines, buy from color first and design second, so our colors are always unusual," Mack says.
Once she envisions a new coat design, Mack begins to draw. In the beginning, everything was drawn by hand. But, as the company grew, she taught herself computer programs like Illustrator and Photoshop to communicate her ideas. 
When she's satisfied with her digital rendition, Mack sends the picture from her home office in Springfield to her pattern-maker in Wisconsin. Mack, who doesn't sew, says: "She's my hands. She can make it work in a factory setting."  They keep in contact daily through FaceTime and use dress forms to visualize fit and construction.
Mack sources all of her own fabrics at a later stage of the process, so her pattern-maker assembles the garment in a material similar to what Mack envisions for the final product. This coat and a custom pattern are sent to China with instructions for the type of fabric Mack wants. She must also stipulate the desired fabric color. (It might need to be dyed.) A detailed tech packet is included with information on hidden buttons, pockets, measurement specifications and other important details. 
Next, a factory in China makes a piecemeal prototype. Each piece of the garment is sent on a separate card with several options for that particular component. These include alternatives for lining, interior and exterior fabrics, buttons, closures, trims, polyfill and any other element that makes up the coat. Mack makes her selections and sends her decisions back to the factory for a first sample to be constructed. 
The next step is for the factory in China to assemble the first sample in a mock fabric and send it to Mack. She will look over every detail and note any necessary changes. The factory then makes a corrected garment. Once Mack signs off on the construction, a coat is made in the actual fabric and sent to Mack for final approval. 
During the approval process, Mack's partner, Penny Crivelli, is watching the factory's pricing on the garment. She will decide what kind of profit margin to carry on the coat. "Different customers will have different margins depending on how much they buy," Mack explains.
By mid-November, Mack and Crivelli travel to show the new line to large corporate accounts. "You'll hear around Christmas or January whether they're going to place an order," she says.
Sales samples are made and shipped in December. Mack has seven sales representatives across the country. They get a sample of each piece in the collection. It's a small but costly order. These samples usually are twice the cost of a retail piece. "Sales reps don't pay for samples, but they may get 30 coats," she says. The samples are usually returned to Mack and kept for reference or sold in an annual outlet sale in California.
Catalog photo-shoots are held in December. The New York market, held in January, is what drives the entire process. Everything, including the catalogs, must be ready in time for market.
In February, any styles not meeting minimum sales are eliminated. Dropping a piece doesn't bother Mack. "My ego doesn't take a hit because the whole line is mine," she says. "There will be some that will be incredibly popular. I can't pick them. Ever."
By March, production orders are placed with the factory in China. A minimum order is 1,000 pieces. "This is a very expensive business to get into because the cost of entry is so much," Mack says.
By late June or early July, containers of the new coats arrive in the Port of Oakland. Some shipping is done out of their Oakland warehouse-office. They also sub-contract with various distribution centers. 
Seeing her product on store shelves is rewarding. But, even more gratifying for Mack is seeing her coats created in China. "To go there and see these people who have nothing but I'm providing them with work, that's more moving to me than seeing the end product in stores," she says.
Looking back at the journey of building a successful company, Mack is proud of creating her own destiny. She enjoys earning a living by her creativity and doing something she would enjoy doing in her spare time. She often remembers the advice of her entrepreneur father: "It's not a job unless you'd rather be doing something else."