Fit for Business
Exploring Realistic Options for Staying Active at the Office and Encouraging Healthy Employee Habits Here in 417-Land
By Joe Donohue
Jan 19 2016 at 2 a.m.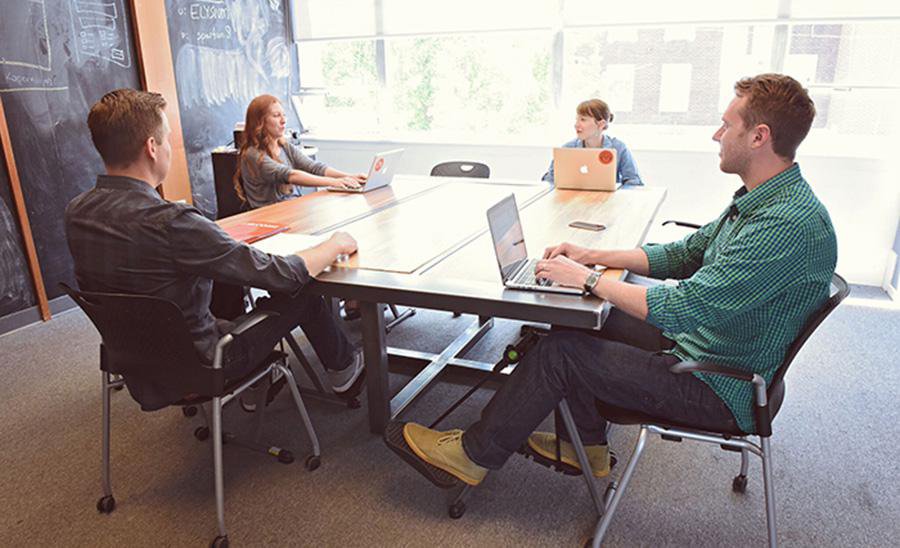 Employee wellness programs have become increasingly popular in recent years for good reason. The upswing in production and employee morale that company fitness programs provide is well documented. Most leading insurance providers also give employers rate breaks for group coverage if the employees participate in a wellness program, making such programs even more financially beneficial. Then there's the whole doing right by your employees thing that motivates so many locally owned businesses in 417-land.
With the new year just underway, many professionals will have some variation of "become healthy and fit" on their resolutions lists. Sounds like the perfect time to share some useful tips to help kick off 2016 well.  
Fitness at the Office
As a barrier-breaking responsive web design service agency, Mostly Serious needs to keep the brainpower charged and creative ideas flowing. It's simply a must that our people have the chance to burn the nervous energy that comes with too much coffee and too many hours sitting at the desk. How? For us, it's all about shaking up the routine workday.
Last summer, for instance, we started using Wirk™ fitness equipment, which our client Stamina Products created specifically for the office setting. A couple of other brands sell office fitness products, but given that Stamina is a Springfield-based manufacturer, I don't feel guilty promoting our client's Wirk line. More to the point, the under-the-desk striders and standup workstations we tested out during our 30-Day Wirk Challenge proved effective and easy enough to use while working that we still regularly use them today (my unshapely self excluded from the "regularly" club, though; long, shameful sigh).
Something as simple as moving from a standard desk to a stand-up desk for an hour or two during the workday can do wonders for an ailing back, and the slight change of scenery is surprisingly rejuvenating  for the easily bored mind. The same is true of a well-timed walk to a nearby coffee shop or lunch joint. For aging-faster-than-we-should-be types like myself who haven't exactly been kind to our bodies over the years, taking a few minutes to stretch at work can make all the difference in productivity levels.
To counter the effects of sitting in front of the computer so often, I use these go-to office stretches*:
Cross-Body Knee Stretch for Lower Back, Hips and Hamstrings
Lying face up, leave one leg straight while bending the other and placing the bent knee across the straight leg. Without forcing or jerking, gradually push the bent knee toward the floor and hold the stretch as needed for relief. Repeat the process on the other leg.
Piriformis Stretch for Glutes
Lying face up, place an ankle on the opposite knee. Then, place the hands behind the knee of the bottom leg and pull toward the chest, holding the stretch as needed for relief. Repeat the process on the other leg.
Upper Body Stretch with Chair for Shoulders
Sitting in a chair with feet planted shoulder-width apart on the floor, bend at the waist and grab the back of the chair. With the back kept as straight as possible, straighten the arms and pull the upper body forward. Hold the stretch as long as needed.
Ankle Circle Stretch for Calves
Balancing against a desk or wall, lift one foot a couple of inches off the floor. Repeatedly move the big toe in a large circular motion for 30 seconds or so. Repeat with the other foot.
Chin to Chest Stretch for Neck
Seated on the floor with your legs straight and feet and toes pointed upward, place your hands behind your head. Point your elbows toward your feet and pull your head toward your chest. Hold the stretch as long as needed for relief.
*instructions paraphrased from bodybuilding.com
One might also occasionally—okay, very occasionally—find me sneaking off to the conference room for my five favorite office exercises** from The Washington Post article "A workout at work?":
10-20 Jump Squats
From a standing, half-squat position with your arms stretched out behind your back, jump as high as possible while swinging your arms toward the ceiling.
10-20 Desk Pushups
With toes flat against the ground and heels raised, place hands on a stable desk or table and do pushups.
10-20 Side Lunges
Standing tall with hands placed on the waist (elbows pointed to each side), keep one foot in place and slide the other out to the side until you can feel your hamstring and thigh working. Then, pull the outstretched foot back in and repeat the process for the other leg.
20-30 Knee Lifts
Standing tall, begin with your elbows bent and your hands or fists raised toward your head. Then, lift one knee at a time while lowering both hands to meet the lifted knee. While lowering the knee, lift your hands back toward your head to repeat the process with the other knee.
10-20 Chair Dips
While sitting with feet placed together on the floor, put your hands on either side of your chair seat and scoot forward until your butt is no longer on the chair. Then, lower your body toward the floor before lifting it back to seat level for each rep.
**instructions paraphrased from original article
Employee Gym Memberships at Group Rates
Our custom ecommerce development solutions shop happens to be located right next to the downtown YMCA, at the corner of Walnut Street and Jefferson Avenue, so working out corporate rates for Mostly Serious employees was almost a no-brainer. So was establishing our policy to let employees step out as needed during work hours so we can hit our favorite fitness classes or play basketball for a bit.
The group membership rate at the Y has served us well, both as a company and as individuals. Of course, there are many other gyms and fitness studios in 417-land that offer group discounts. This is far from an exhaustive list, but here are a handful of options to consider:
Body Smith
Classes: Pilates, Yoga, Postural & Biomechanical, Boxing, Weight Loss, Tai Chi and more
Contact Info: 317 E. Walnut St. | 417-865-0500
Closed Group Class Rates: five sessions for $90 or 10 for $180
Dynamic Body
Classes: GYROTONIC® stretch, Pilates, Yoga, TRX, Dance Trance and more
Contact Info: 1110 E. Republic Rd., suite #108 | 417-883-4047
Pilates & GYROTONIC® Group Equipment Class Packages: 30 for $600*; 10 for $225; four for $100; one for $35
*Note that space is often limited for GYROTONIC classes, so be sure to reserve spots in advance.
Embody
Classes: Pilates, GYROTONIC®, Dance, and more
Contact Info: 2811 E. Galloway St. | 417-569-9924
Group Rates: customized plans with on-site sessions available
Fitness 4U
Classes: Total Body, Lower Body, Upper Body, Cardio Fitness, Strength, Abs/Core, Functional Stretching/Flexibility and more
Contact Info: 4560 S. Campbell Ave., L-104 | 417-350-1550
Group Session Rates: one to nine sessions $10 per session per person; 10 sessions for $90 per person
Genesis Health Clubs, Springfield South
Classes: Aquatic, Body Attack, Body Flow, Body Pump, Indoor Cycling, Zumba and more
Contact Info: 1249 E. Battlefield | 417-883-6105
Group Rates: Customized Plans
YMCA
Classes: Aquatic, Body Attack, Body Flow, Body Pump, Indoor Cycling, Zumba and more
Contact Info: 417 S. Jefferson Ave. or 1901 E. Republic St. | 417-862-7456 or 417-881-1599
Corporate Rates: various plans
Using just the few stretches, exercises and affordable pieces of office fitness equipment covered in this article, our team at Mostly Serious stays productive, energized and generally happy during day-to-day office life. The healthy habits at work clearly benefit our company and our clients, making it easy to recommend sharing our office health hacks with your employees or colleagues.
Here's to good health and healthy businesses in 2016!
Joe Donohue is a founding partner and head of writing & content marketing at Mostly Serious. He oversees all writing for the digital design and development company's client projects and specializes in driving website traffic through content-driven search engine optimization (SEO).
mostlyserious.io | @mostly_serious on Twitter