Strategy
Marco Denis's $20 Million Plan for Plaza Towers
Springfield real estate developer Marco Denis has built his professional life leaving projects nicer than he found them. Now he's set his sights up—way up—with a $20 million Plaza Towers renovation.
By Jennifer Johnmeyer
Mar 2021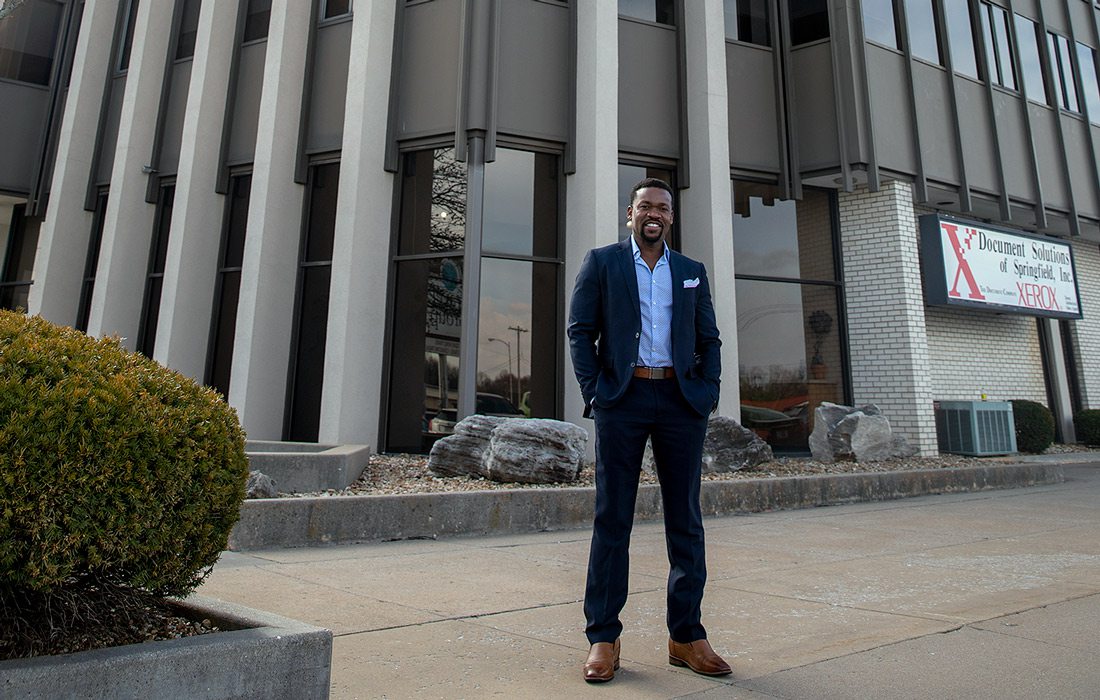 Marco Denis is no stranger to renovation. The owner and president of Springfield Property LLC launched his career by giving new meaning to the phrase "flip phone" as the owner of four phone repair and resale stores. After finalizing the sales of those businesses, Denis upgraded and shifted his sights first to residential real estate development before moving to commercial properties.
Denis originally hails from Haiti but has been a Springfield resident since the 1990s and refers to it as "the city I call home." He chose to renovate Plaza Towers for its iconic nature and local history. "The structure has not been updated for quite some time, and we see it as a great privilege to be able to both update the design of this great building and to be part of its future success," Denis says.
When researching architectural firms to help him bring his vision to fruition, Denis didn't look far. He hired two firms to aid in planning that happen to also be long-time tenants of the Towers: Esterly, Schneider & Associates and Marshall Waters Woody. "The renovations will be something all the tenants can take pride in. [It] will create spaces that help the existing tenants grow their businesses while also bringing in new tenants," Denis says.
It was important to Denis to maintain the building's current design while brightening it up with simple, aesthetically pleasing updates. Additionally, while his vision of an upgrade with a modern look was important, he finds one aspect of the renovation particularly crucial. "Although it might seem like a small part of the renovation, one of the priorities is to upgrade the restrooms in the building to make them accessible for people with disabilities," Denis says.
While his sights are firmly on the current renovation, Denis's thoughts have also strayed ahead to the future. "As for what the future holds for the project, please stay tuned," he says. "There are lots of ideas we are working on for the corner of Glenstone and Sunshine. It will be something everyone will be excited to see."