Leadership
How Zachary Starnes and Jason Bauer Bonded Through Mentorship at CoxHealth
When Zarchary Starnes signed up for the CoxHealth Young Professionals (CYP) mentorship program, he wasn't sure what to expect. Luckily, he found the perfect mentor in Jason Bauer.
By Haley Phillips
Jan 2020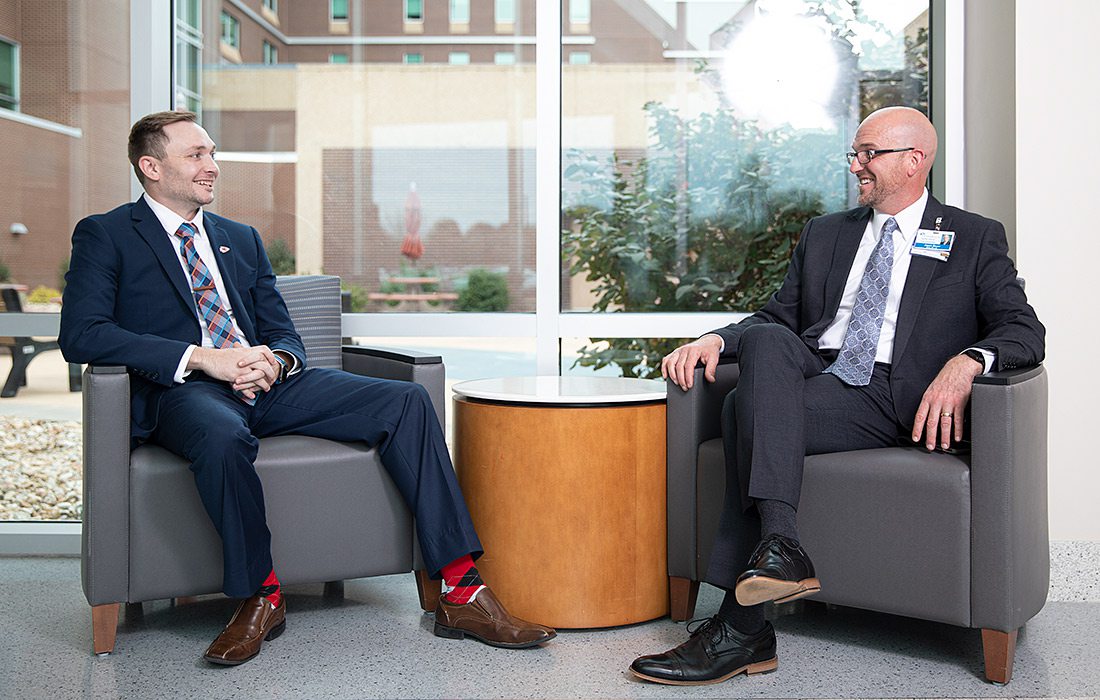 Last spring, Zachary Starnes, a Wellness Education Specialist, signed up as a mentee for the CoxHealth Young Professionals (CYP) mentorship program. During the blind selection process, Starnes had trouble resonating with the available candidates until one profile stood out. The bio belonged to Jason Bauer, system director for Food and Nutrition Services, who had been both a mentee and mentor in the program and who had once managed Starnes' department. Soon after Starnes spotted Bauer, CYP paired the two professionals.
Biz 417: Why did you decide to take part in CoxHealth's Young Professionals program?
Zachary Starnes: Everyone in my office that had done CYP told me that you have to do the mentorship; you'll regret it if you decide to pass up on it. [Jason] asked, "What do you want to get out of this?" I said, "I don't really know. I love wellness. I love my position. I love the CoxHealth organization in general, so now I'm wanting to see what else is out there for me."
Jason Bauer: I was actually in the CYP for a while. I had the opportunity to be with somebody when I was in the program, and I thought it was a great value. [Now] I feel like it's my responsibility and obligation when we do these to expose people to those experiences because I'm involved in a lot of other things. They don't have to do what I'm doing, but there are a lot of opportunities here.
Biz: What one moment has stood out to you during this mentorship?
Z.S.: Jason's brought me along to a lot of meetings. I feel like some of them I definitely wasn't qualified for. [During one meeting] they were figuring out how to cut the cost down of something, and out of nowhere Jason said, "Zach, what do you think?" and he's done that a few different times. I felt like I wasn't a burden, and that my input was really needed.
Biz: How do you work to foster growth throughout this mentorship?
J.B.: I can remember where I've taken Zach, and I don't want to keep taking him to the same meetings, so I always just think of different situations. We've had big staff meetings, we've had leadership meetings with our group, some one-on-ones; I try to make sure it's in different groups and even different locations. I just keep trying to get different experiences, so he gets exposed to new people and new situations.
Biz: What makes a good mentor?
Z.S.: I think being personable, being positive, a good leader; I think those are some of the best things [to look for]. Jason gets along with everybody. [One day,] he took me down to the cafeteria, behind the scenes—it was kind of chaotic—but he said, "Hi, so and so, how's your husband doing? How are the kids?" naming the husband, naming the kids, and then doing that for multiple people; there wasn't one person he was going to introduce himself to because you could tell they've had multiple conversations. That really stood out to me.
J.B.: You need to listen to what your mentee is needing and then meet their needs. We all have different talents, so it's just finding out what they want to do. As a mentor, I think you need to do a good job of listening and you need to be a good educator, too. You understand what you know or don't know when you have to teach somebody and I think being on this end as a mentor makes me have a better understanding because I have to explain it. In my opinion, leadership covers all areas. If you're a good leader, you'll be a good leader in nursing or nutrition or anywhere else.