Leadership
Mentorship Moment with Tez Ward and Richard Ollis
City leader Richard Ollis and young professional Tez Ward bonded over mutual interests in the community during monthly power breakfasts.
by Sony Hocklander
May 2021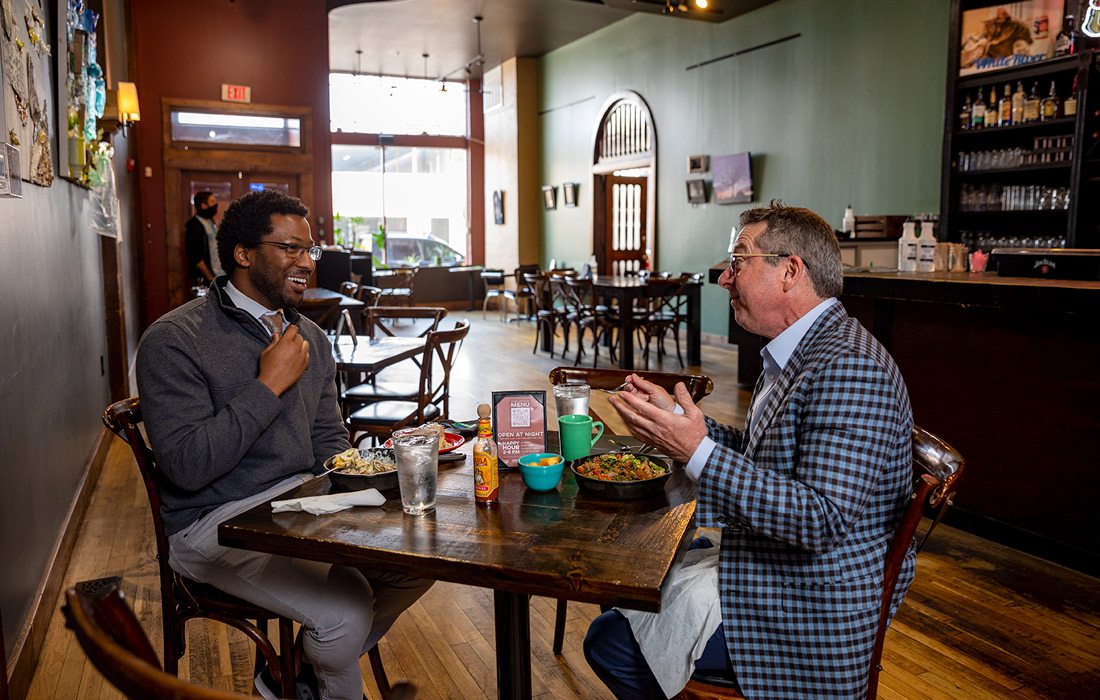 Richard Ollis, CEO of Ollis/Akers/Arney and a Springfield city councilman, grew up in the Ozarks. So did Tez Ward. As a young man, Ollis joined the Navy. Ward joined the Air Force. Freshly separated from the military in the summer of 2017, Ward moved back to the Ozarks with his family to pursue graduate education and a career in economic development. Today, Ward is Director of Financial Stability at Community Partnership of the Ozarks where he enjoys working with community "heroes" to improve the lives of others. In conversation peppered with laughs and reminiscing, Ward credits Ollis for guiding his efforts toward making a positive impact on the community.
Biz 417: What brought you two together?
Richard Ollis: Tez reached out over LinkedIn, and what really interested me was his military background in the Air Force and I was in the Navy. We struck up a friendship. Then we just began meeting once a month for breakfast at Gailey's. We had a lot of the same interests, and that's how it began.
Tez Ward: When I came back, I was starting from scratch and trying to find great role models and business leader—people that I might aspire to be like. I was looking for that kind of leadership level. What matters to the leaders in the community, and how can I be an advocate? That, I think, is really what allowed us to go that distance because Richard's so passionate about economic development. We really connected on economic development and how we improve the neighborhoods.
Biz: Richard, what did you get from meeting with Tez?
R.O.: A friend. Tez really enlightened me on what young professionals like and want and, particularly, his desire to want to make a difference. You've probably heard the term "conscious capitalism" and that reminds me of Tez. His desire, not only to be successful in a business setting but also wanting to be successful in building a community. That has resonated with me—his perspective as not only a young professional, but also that he's a very broad thinker. I always enjoy our time together when we talk about things.
T.W.: We did have some differences of opinion from time to time. The thing that Richard offered me quite often—and it's a word I'll never forget—[is] pragmatism. Being pragmatic. With this big high-level thinking, I'll run with it. And he's like "Whatever you do, come back down. Be pragmatic."
Biz: Tez, what did you get from those power meetings?
T.W.: Richard is somebody I would put at the top of the mentor list. One of the things I took away was "expectations." It wasn't like, "Hey Tez, I expect you to do this," but anytime I did something right, he'd give me a kudos. He reminded me of what the standard was and where the bar was and to keep meeting the bar. And I would check in with him to make sure I was doing things correctly. I'd ask him what my reputation was because it's hard to see things when you're in the spot. He would help me gauge a lot of things.