Leadership
Leading the Way in Springfield Public Schools
In 2002, Monett Superintendent Dr. Charles Cudney hired John Jungmann–first as his high school assistant principal, and then as his successor. Nineteen years later, they discuss mentorship and mutual respect.
By Jennifer Johnmeyer
Mar 2021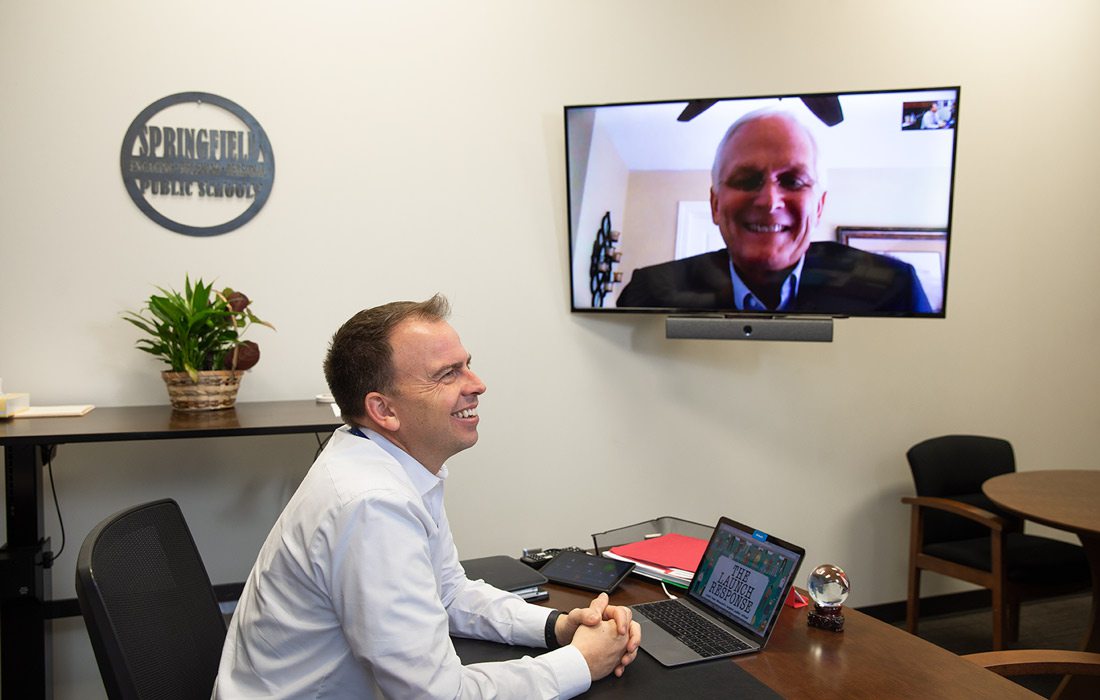 Biz 417: How did the two of you meet?
Charles Cudney: We had an assistant high school principal's job open at Monett High School about 20 years ago. He applied, and we put him through several grueling interviews with multiple stakeholders. And he knocked the ball out of the park. He was an outstanding applicant.
John Jungmann: I was in this interview with all of these administrators, and there was this guy sitting off in the corner. That was Dr. Cudney.
CC: I remember we were jumping through these hoops of his interview, and we had a one-on-one and [his] young age happened to come up. I said to [him], "You're young, but I'm only 35, so in another five or six years of school administration, you'll look like me."
JJ: He was warning me that the job would age me quickly, I think.
Biz: What are things that come to mind when you think of each other?
JJ: One thing he told me from the beginning that I'll always remember is, "My door is always open. You can come in, then close it and kick the trash can if you need to." He told me that in times of frustration, I'd need someone to talk it out with. So, kick the trash can, we'll discuss it, then we'll go back out there with smiles and keep serving kids.
CC: What he doesn't know is that he has mentored me as much as I've mentored him. The purpose of education is to serve all children, and all means all. There's this incentive to just hold onto this [superintendent] job once you get it, to be a caretaker. Dr. Jungmann has a passion for assuming the office and using it to achieve greater opportunities for students. That's why you see Springfield passing the largest bond in the history of the school district. That's why you see the development, not only of an online program for Springfield but also counties in other districts in what has become a statewide initiative. Caretakers don't make those decisions.
Biz: What is one thing you feel important to share?
CC: I do want to say that when Dr. Jungmann was selected Missouri Superintendent of the Year, I attended the ceremony in New Orleans and saw him recognized for that honor. That was something personal that I enjoyed very much, watching that success and knowing the history of where that all started.
JJ: Dr. Cudney has definitely received some calls from me this fall, as have others I respect. In these times, leaders need to talk to fellow leaders more than ever. If you aspire to make a difference, learning from those who have been down the road before is game-changing. Get a mentor. Stay close to them. It will change your path.