Leadership
Bankers Mandy Anthes and Robin Robeson Share Their Mentorship Tips
After 14 years at Bank of Missouri, Mandy Anthes was looking to challenge herself in new ways. The Network connected her with Chamber board member Robin Robeson, Executive Vice President and COO of Guaranty Bank.
By Claire Porter
Mar 2019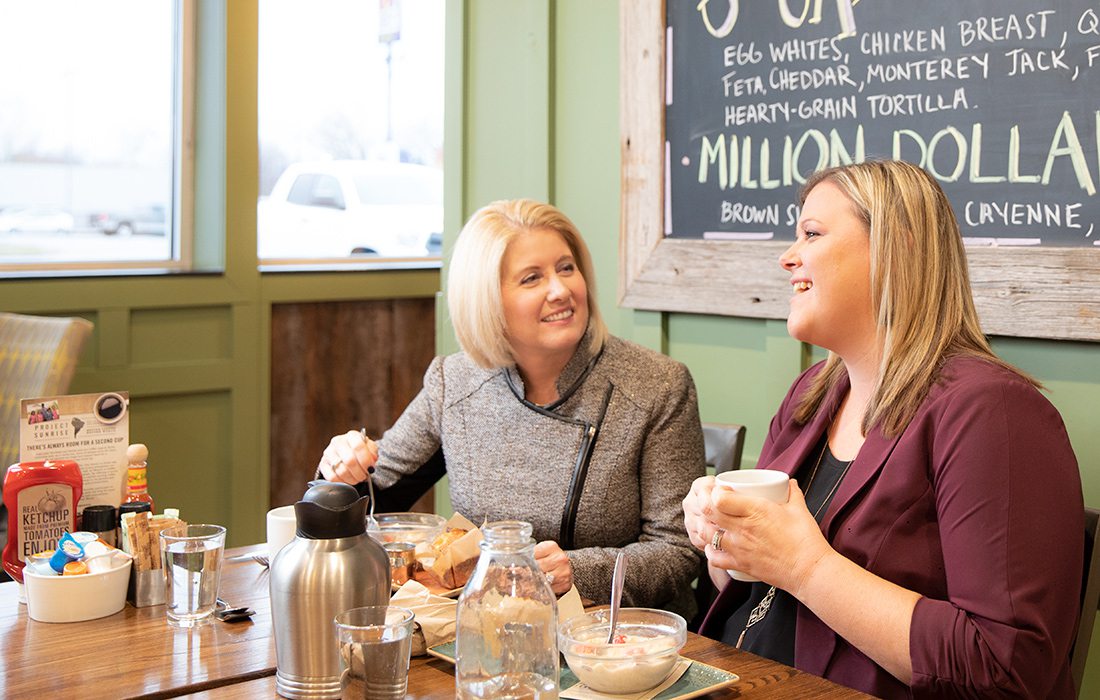 Biz 417: What drew you to each other? 
Mandy Anthes: It was perfect timing for me, personally. The [Biz 417 2017 Women Who Mean Business B-School event] was going on [and] the article came out. It worked out so well with where I was in my career and where I was wanting to go. There was nobody better to have—she's trailblazed her own path already. 
Robin Robeson: Our first meeting was after that [2017 Women Who Mean Business] article had come out, and Mandy came with questions. I remember this distinctly, one of the things I had said in the article about one of my jobs was that I stayed a little too long, that I should have left a little earlier than I did because I wasn't still growing and learning, and she specifically asked me about that. "What did you mean by you felt like you stayed too long. How did you know?" And we had a long conversation about that, and I didn't know at the time that Mandy was thinking about making a change herself. 

Biz: How did Robin help you transition to your new role, Mandy? 
MA: During the process, Robin said don't be afraid to make the wrong decision because that just means that if it turned out to be the wrong decision, you need to make another decision. 

Biz: Robin, what advice did you give to encourage Mandy to take on this challenge? 
RR: If you want to be in a higher level position, you're not going to get there by maintaining the status quo. You're going to have to push yourself, and you're even going to have to fail some. You're going to have to do some things not so well because that's where the learning really happens. We have a lot of women who work in banking, but we don't have a lot of women who are in higher level, executive level positions, and so that's been a passion for me, because I believe a company is better by having more diversity at the senior management and the executive management level. It's not unusual to be the only woman in the room, so my goal is to have an industry where I'm not always the only woman in the room. 

Biz: What strategies have you learned from this relationship?
MA: She taught me to be very intentional in what I choose to do.
RR: Sometimes saying no is the best thing you can say, but on the other hand, something I really believe is that when someone offers you a tremendous opportunity, even if you don't feel like you're quite ready for it, say yes anyway. Don't say no just because you're not ready for it. Say no because you're not passionate about it or because it's not your wheelhouse; don't say no just because you don't think you're ready because if you wait until you're ready, it's never going to happen.

Biz: What have you taken from this mentorship? 
MA: If you look on the outside, Robin makes it look very, very easy, and if you try to compare yourself to somebody at that level, you think, "Man, I am not there. I don't know if I'll ever get there." And [this mentorship] brings out the realness that she had missteps, and she stepped outside the box and went to a totally different industry and was willing to take big chances. It's just a confidence that she helped me find that I'm not going to fail if I try something new, you're going to be okay, and if I just work hard, it'll get noticed. She's helped a lot with my confidence. I want to be a trailblazer like Robin as I grow in my career.
RR: I've learned that I shouldn't have taken myself so seriously when I was younger because seeing that in her, I know that I was exactly the same way. At her age and her stage in her career, everything seems like the biggest deal in the world and like the biggest decision you'll ever make, and, boy, do I wish I could have had somebody to talk to about that because you can really beat yourself up, and you can stress over things that you really don't need to stress over. It's kind of like looking back in time in a mirror. 

Biz: What advice do you have for someone seeking out a mentorship relationship? 
MA: You need to make sure your work ethic matches because you have to find some common ground. You need somebody to push you, but in the end, you still have to have some common ground work ethic or personality to make it make sense, and I think I was able to see Robin's career path and the different steps she's taken, so I knew it matched with what my end goal was. 
RR: I think it should be aspirational. It needs to be someone who is aspirational to you, but it also needs to be someone that you can trust because you need to be able to be honest and open. If you don't have that, you're just going to be having breakfast.