Leadership
How James Tillman Built His Career From the Ground Up
Though James Tillman is content to fly under the radar, his business operations within the region make him a quiet local powerhouse. Here's a behind the scenes look at who he is, where he came from and where he's headed.
By Jenna deJong
Jan 2021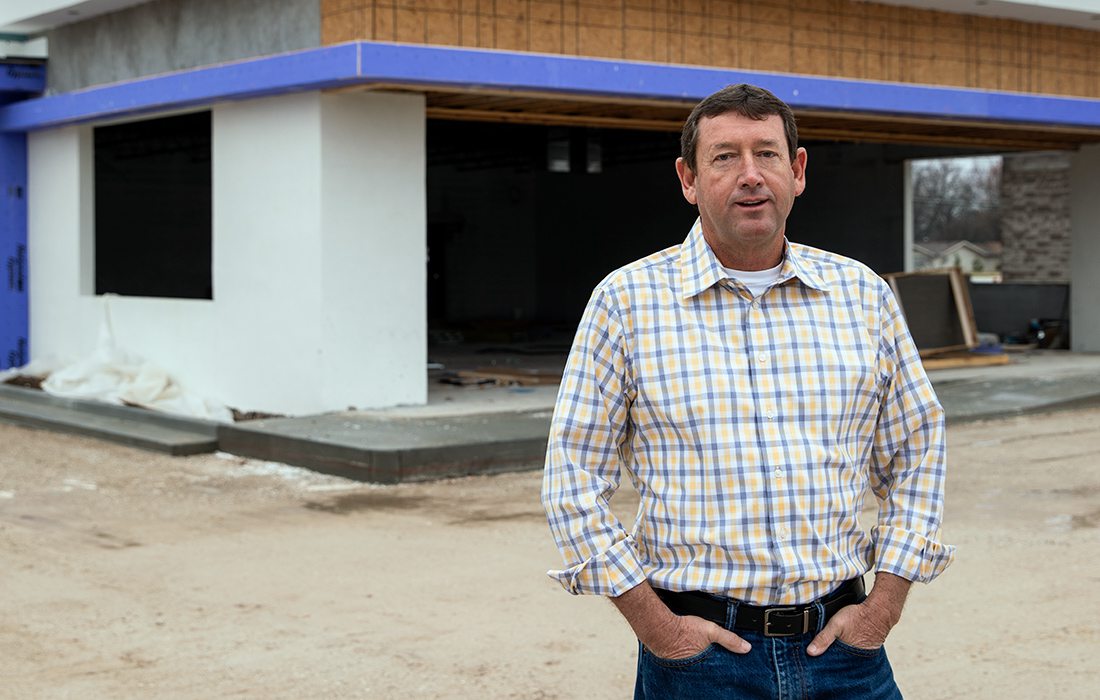 Jamie Tillman would describe her father as an intelligent, dedicated family man whose work ethic created abundant opportunities for not only himself but his children, too. "I don't think most people realize he's as successful as he is," she says. "Everyone knows him as the good ol' boy and the people that know his business opportunities know what an intelligent businessman he is."
James Tillman is the owner and co-owner of more than 45 commercial buildings in and around Springfield. He's also the founder of Complete Electrical Solutions and owns seven First Watch restaurants. Though he's quietly living a prosperous life behind the scenes, he wasn't born into a life of comfort and stability. In fact, his early life was anything but comfortable.
James is originally from Springfield but moved to Jefferson City in 1967 when he was 7 years old. James is one of nine children, and he grew up in poverty. He mowed lawns and washed dishes at 13 years old to help with expenses. At 16 he left home and ran away to southwest Missouri where he made do for himself and his younger brothers. "I rented an old house in Lawrence County," James said in an email. "I got a job at [Race Brothers Farm & Home Supply] making $2.85 per hour." Before his senior year, he was forced to make a decision: either quit his job or drop out of high school. Those early years were some of the toughest of his life. "I was barely scraping by," he says. "[I was] driving a very old car, living in an old house and barely eating. I was left with $10 per week for food." He says some nights this meant eating canned pickles discarded by the previous homeowner.
"I was barely scraping by. I was driving a very old car, living in an old house and barely eating."
— James Tillman, serial businessman
James was determined to break the cycle and live a life of prosperity, so he came up with a plan. He made a budget. He continued his education at night and earned his GED at 18. When he graduated, he set his sights on vocational school and learned about welding and HVAC systems. He worked as a laborer at Roland Shultz Construction, and in his off time, he used the skills he learned at school to flip a mobile home, which he rented to his brother.
In 1979, and when he was around 20 years old, he bought Traveler's Mobile Home Park and flipped duplexes in Republic in addition to working his day job. To save money, James says he'd use scraps from jobs sites, including lumber and even toilets. While his friends bought new cars and bigger houses, James says he remained frugal. James' real estate projects stayed constant as he switched from Roland to CIR Electric in 1988, where he landed an apprenticeship. At that time he was on to his next goal: becoming a master electrician.
The drive to succeed was mostly intrinsic, but once James married and had kids, he found motivation in supporting his family. Looking back on those years, Jamie says she has vivid memories of her dad's work ethic. "My dad worked fierce hours," she says. "I can't remember a weekend that he was available. He did everything he possibly could to improve our lives and to become successful." Though he did work long hours, he still made sure his children knew how much he cared for them. "When he was gone he made up for it with one-on-one time with each of us," Jamie says. "He got a double lawn mower so his kids could ride on the mower with him. He would spend time with us even when he was doing his chores."
In 1993, James, along with four others, started AC Electrical Systems, and four years later he became a master electrician. He diversified his portfolio even more, and in 2008, he bought the local franchise of Little Sunshine's Playhouse and Preschool and brought on his then-18-year-old daughter Jamie to help him. Two years later, James sold his share of AC and opened his own electrical company, Complete Electrical Solutions. He decided to switch his focus from residential to commercial real estate and invested in pawn shops and Dollar Generals, which he saw as stable investments. He also continued to buy commercial buildings, which worked out. Case in point: He bought a property for $280,000 that today is worth approximately $1 million.
Today, 95% of James' real estate investments are commercial and his investments amount to $50 million. Nearly all of his properties are located in southwest Missouri. These buildings and businesses vary widely in industry and scope. Some of his holdings include seven First Watch restaurants, two climate storage facilities, Maria's Mexican Restaurant and more. Some of these he co-owns with other partners. He also owns the building that houses Jamie's CBD business, Canna Bliss. With so many investments in his portfolio, managing it all is heavy lifting. To keep track of it all, he relies heavily on his assistant, Carla Myers. 
"James is one of the hardest working people I have had the pleasure to work with," Myers says. "He will never ask anyone to do something he would not do himself.  And usually is right in there doing it himself or helping."

As his portfolio grows, he has taken measures to free up his time. He's no longer involved in daily operations of Complete Electrical Solutions. That business is now run by his son, Michael Tillman. And when he's in need of a change in scenery, he visits one of his vacation homes in Longboat Key, Florida; Sarasota, Florida; Breckenridge, Colorado; Cozumel, Mexico; or his latest home in Maui, Hawaii. He's also got a spot on Table Rock Lake.
Though he didn't take the traditional route, it's safe to say James has come out on top. "College is wonderful for a lot of people, but having a strong work ethic and learning a trade is what makes America run," Jamie says. James says he's now eyeing retirement, but he hasn't shown signs of slowing down. Even when he's vacationing, he's still working. All in all, it's this drive that changed the course of his life. "He definitely didn't have a leg up in life," Jamie says. "He scraped and maybe that's what it was, having to scrape by and wanting better for his family."