Leadership
How a Simple Favor Led to Husch Blackwell's Mega Airline Deal
Decades of connections in the aviation industry came with David Agee to Husch Blackwell. Read how this led his team to represent American Airlines in a 50-aircraft mega deal earlier this year.
by Claire Porter
Nov 2019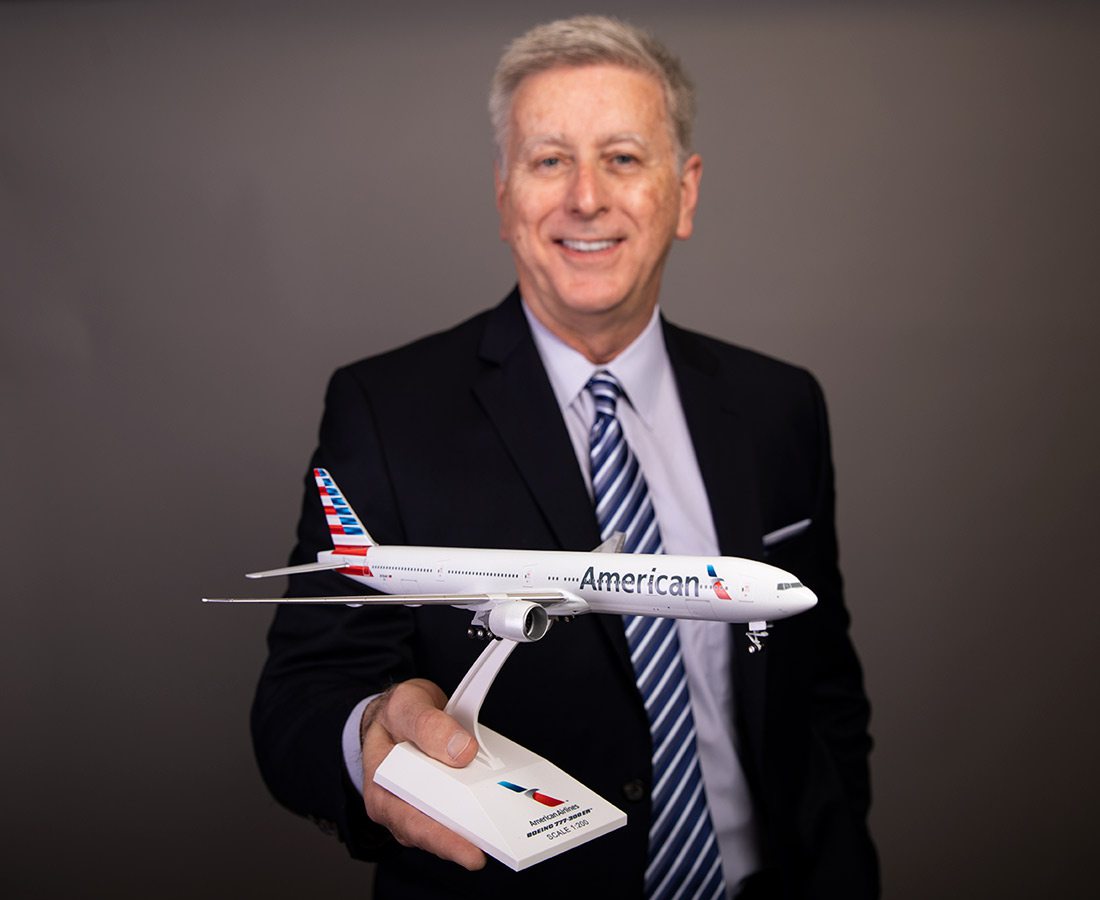 Simple favors can go a long way. Back in 1990, little did David Agee know that a small task—and a $6 floppy disk—would lead to a decades-long career representing the world's largest airline in its high-dollar multi-aircraft deals.
Up in the Air
Before the mega-deals, Agee was a partner at a firm where he served as general counsel on an outside counsel basis for Springfield's Ozark Air Lines and its affiliate, Midcoast Aviation. In the 1980s, Carl Ichan acquired Trans World Airlines (TWA) and set his sights on Ozark Air Lines and Midcoast. Agee and his team handled the acquisition and were retained to represent Midcoast. During this time, Agee negotiated the first regional air carrier agreement and handled a 35-aircraft sale-leaseback transaction while also gaining experience in aircraft financing and leasing and business aviation issues.
In 1990, Agee and his firm were still doing projects for TWA. They had categorized all of TWA's aircraft transactions, wrapping the project up a week before the company filed for bankruptcy. TWA's future was in the air, so the airline's assistant general counsel called Agee and asked for whatever files his firm had. "They were trying to find out where things were, and they heard that we might have some information," Agee says. "She goes, 'How much would it cost?'—and this is someone who is used to dealing with New York law firms. I thought she meant how much does a floppy disk cost. I said, 'I don't know, $6?' So I sent her the [files via floppy disk], I think we billed her $6, and that attorney thought I did her a great favor. She thought I had saved her hundreds of thousands of dollars in fees. That favor turned into a career of getting a lot of work."
Ready for Takeoff 
"I just thought I was doing the right thing," Agee says of his favor, but it paid off in spades a few years later. TWA went bankrupt for the third time in 1999, and all of its assets were sold to American Airlines. His TWA connection was poached by American Airlines, and she continued to send work to Agee. "They would give us projects that they just trusted us to figure out," he says. "It was the trust more than it was the expertise, because a lot of things we hadn't necessarily done before, but we would then figure it out." 
"I've heard this story numerous times over the years," says Amanda Tummons, partner at Husch Blackwell. "In fact, I think it's really one of the greatest training tools we have, and one of the greatest successes we can share with people is [to do] the right thing, [maintain] relationships and not only be an advisor, but try to be a partner."
Gaining Altitude
When Agee moved to Blackwell Sanders (now Husch Blackwell) in 2002 as a partner, he built a corporate practice team that includes Tummons, who joined the firm in 2006. They continued to represent local, national and international corporate and aviation clients in general corporate matters, including mergers, acquisitions and complex commercial transactions. American Airlines has been a client in their book of business since 2002. Thanks in part to that longstanding relationship, the team represented the airline in its 2019 purchase of 50 Airbus jets, rumored to have a multibillion-dollar price tag, in addition to lending support over the years in acquiring 50 Boeing 787 aircraft and multiple Airbus aircraft.
Smooth Sailing
Agee and Tummons agree that the key to keeping clients for the long term—be they high-profile airlines or local mom-and-pop shops—is building trust and understanding your clients' businesses so you can understand their goals. "A part of that is, when they ask you to figure it out, that means you figure out how to get it done, not you do it [yourself], and we've always been really good at bringing in the right people, or saying 'That's not really our thing,' and that helps build trust with people," Tummons says.
Springfield's Husch Blackwell office has 17 attorneys, and the network has over 700 attorneys nationwide with broad expertise in various specialties, plus global connections. The wide perspective, they say, allows them to bring broad experience to each client, regardless of size. "The small businesses have many of the same issues as the large businesses, but sometimes they're not as aware of it because they don't have the infrastructure to even know what they should be watching out for," Agee says.
In building teams of experts for clients, there are a few leadership qualities that Tummons says are crucial to success. "You've got to be able to roll with the punches, and you have to know you're not the smartest person in the room—and you have to be okay with that," she says. "There are a lot of dollars involved; people's careers can be on the line. If it doesn't go right, it can turn out badly for somebody, so you have to be able to keep that perspective but not take yourself so seriously that nobody wants to work with or for you." For Agee, that translates to sharing recognition for hard work and seeking out team members smarter than himself. It also means offering sponsorship and mentor programs, growth, targeted learning and visibility opportunities for up-and-coming associates, women and minorities, allowing others to have the high-flying success he's seen himself.