Leadership
Get to Know Algerian Hart
By bridging gaps between people, Algerian Hart strives to build a sense of belonging on campus and in the community through his new role in Missouri State University's division of diversity, equity and inclusion.
By Susan Atteberry Smith
Jan 2023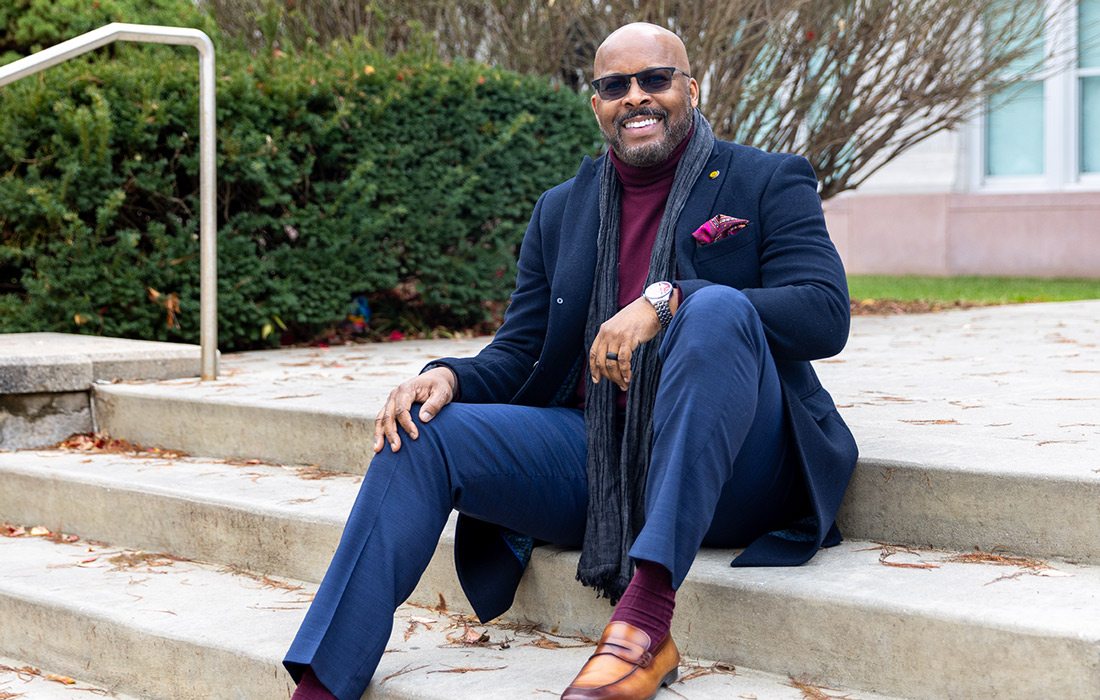 Until people get to know each other—in classrooms, on soccer fields, at churches, or just by having a beer together—their perceptions about the differences that seem to divide them can be hard to change. That's why Algerian Hart, interim chief diversity officer in Missouri State University's division of diversity, equity and inclusion (DEI), is focused on continuing to build a sense of belonging on campus and in Springfield.  
After serving as associate dean in the graduate college, Hart, a professor of kinesiology, was named interim director and assistant to President Clif Smart when H. Wes Pratt retired from the top DEI position after 15 years at Missouri State. 
"I am by no means trying to fill his shoes, because he left such a big blueprint," Hart says of Pratt. "We certainly want to be able to build on the foundation that he helped to create."
Since moving to Springfield in 2019, Hart says he and his wife, Michelle, a talent recruiter for Ross Stores, Inc., and their sons, Ahmias and Rowen, have found significant common ground with Ozarks natives. Whether attending campus events or watching their sons play sports—Ahmias, a Central High School graduate, is now a freshman quarterback and running back for the Missouri State Bears, and Rowen, a Central sophomore, is on the Bulldogs' varsity football squad—Hart says they see their own values reflected.  
"Community means a lot to us," Hart says. As a young person growing up in California, he spent summers visiting relatives in Arkansas, Oklahoma and Texas, so he says he relates to "manners, respect—all those things that many would argue are very Southern, traditional, Christian types of values. Springfield is a beautiful place where that exists." 
Having grown up "a stone's throw away from the Rose Bowl" in South Pasadena, Hart says Missouri State students coming from different backgrounds and experiences share more common ground than some might think. For example, a student from a rural area like Clever could be sitting in class next to a student from St. Louis, he says, "and what no one knows is that they're maybe sitting next to each other in the dining commons and talking about their favorite team over a meal." 
Such easy camaraderie may not take much of a nudge from Hart's office. Providing resources and advocating for students—no matter their abilities, culture, race, religion, gender identity or sexual orientation—is the real work. And achieving inclusive excellence is the goal, Hart explains. 
At Missouri State, advocacy might look like faculty and staff training, a roundtable discussion about recruiting more women into STEM studies or a recent meeting between the university's Student Government Association and the local American Indian Council to talk about appropriate ways to recognize contributions of indigenous people. Forming partnerships with such community groups to achieve inclusive excellence is important, Hart says. Missouri State is "a great place, but it can't be as great as it should be if we don't have the community involved, if we don't have the campus, faculty and staff involved in that and continue to do this work," he says. 
These days, even using the term "diversity" can be divisive: "Some individuals really get offended by it; other individuals are enthused by it," Hart says. Yet when he visits towns around the Ozarks, people are unified around one thing: They care about their children's future. 
"They want to make their lives better," he says.