Culture
Flying High with Graddy Real Estate
You can't miss the American flag outside Graddy Real Estate. It's there to remind everyone of a powerful force behind 417-land's Keller Williams presence.
By Lucie Amberg
Jul 2023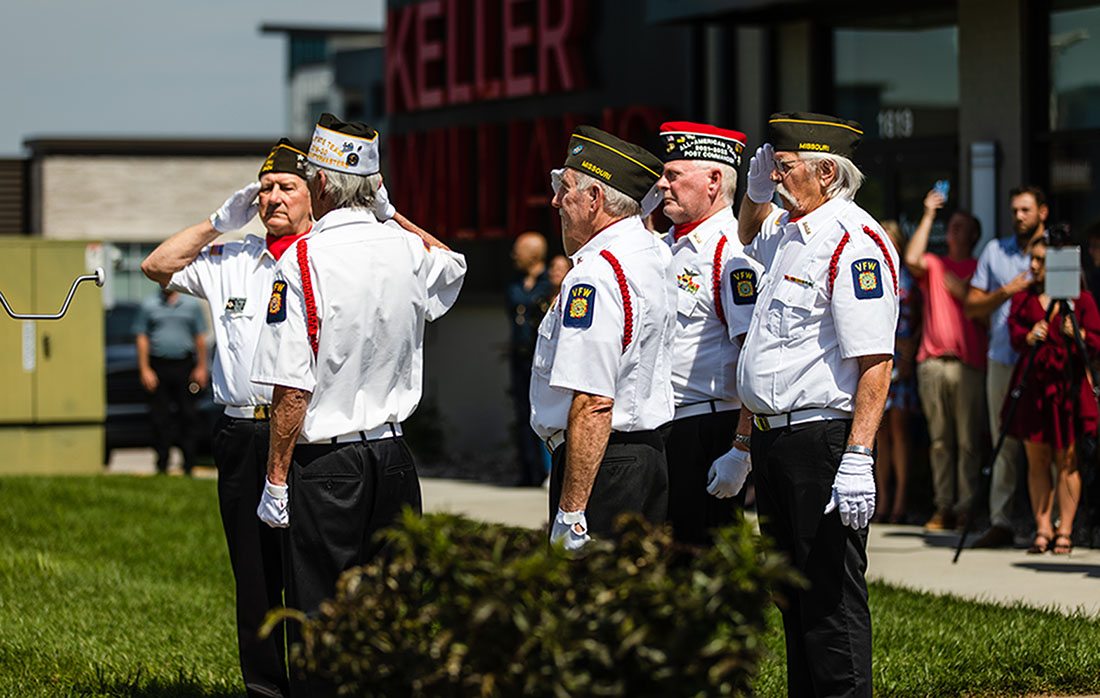 When Ron Steffes died in early 2022, southwest Missouri lost a devoted family man—and one of the primary reasons behind the large presence of Keller Williams (KW) throughout our region.
Adam Graddy, who became a KW investor with Steffes, is now president of Graddy Real Estate. "Ron gave me a platform to build a business on," Graddy says. "He was a great mentor." Even after Steffes stepped back from his real estate career, Graddy says that he was "'quote-unquote retired.' He was at the office with us all the time." Steffes was also a veteran and a deeply patriotic person. Graddy says that at the brokerage's previous office, Steffes always wanted to put up a flagpole for an American flag, but he couldn't work out the details with the landlord. When Steffes died, Graddy Real Estate had owned and operated in its new space on East Independence Street for just 18 months. Graddy immediately began thinking about putting up a flag at the new space. He felt confident that Steffes would have loved the idea. "We hadn't even talked about it," Graddy says. "But I thought: 'What a great way to honor him.'" 
The whole team pitched in to organize the effort. They worked with Ozark Flag Distributors—an experience that Graddy calls "amazing"—to get the flag, and they planned an event to unveil it. Another KW investor, Rhett Smillie, arranged for the Veterans of Foreign Wars Post 3404 to participate in the dedication. 
"It's not every day that one does this, and to meet the protocol, propriety and importance of the event, we felt it was important to involve people who know the protocol and knew how to correctly and respectfully dedicate this memorial," Smillie says. "Many veterans are part of this company, and we have the utmost respect for them." 
Melinda Love, Graddy Real Estate's operations manager, says the dedication helped everyone celebrate Steffes' legacy—and helped them come to terms with his loss. "It was a beautiful dedication to him and all that he did for all of us," she says. "He was a giving, loving, kind human who always wanted to make an impact on people's lives." 
Graddy agrees with this sentiment. "At the end of the day, the question was: How do we memorialize Ron in a way that's super respectful and puts him front-of-mind for everyone who walks by the flag every day?" he says. 
And while no one who enters Graddy Real Estate can miss the flag, it's also visible beyond the office. You can see it from a number of vantage points—north, south, east and west—much like the impact Steffes left on southwest Missouri.