Leadership
Get to Know Monte McNew
New president and CEO of Springfield First Community Bank's goals for the future.
By Jennifer Johnmeyer
Jul 2021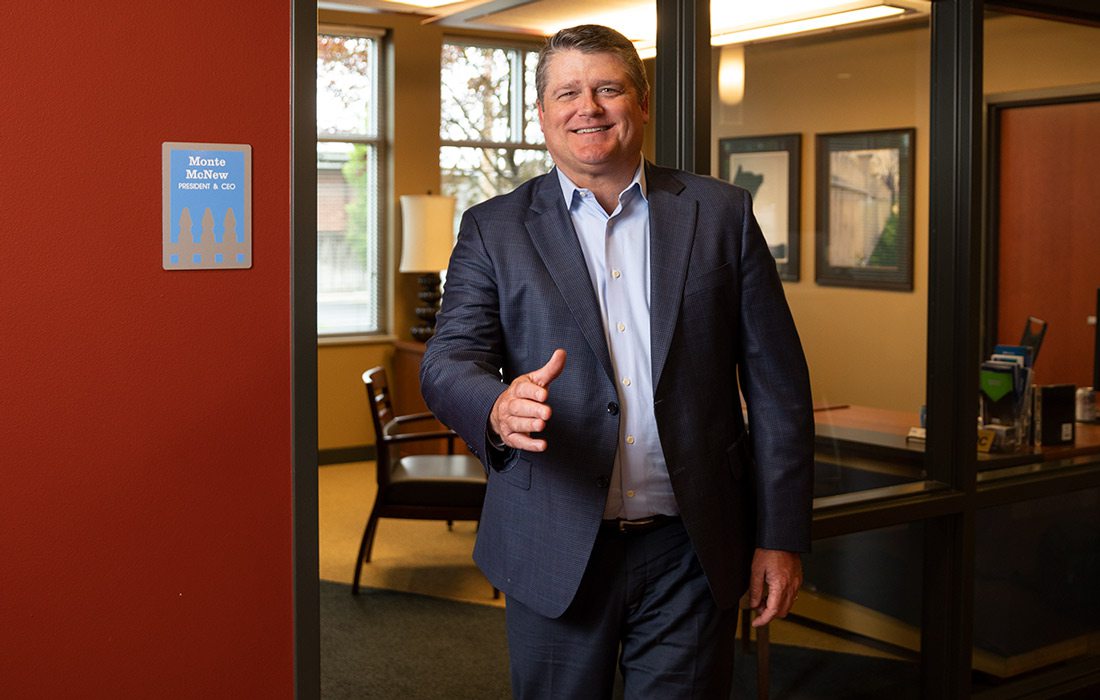 If there is one mantra that encapsulates Monte McNew's drive, it's "seize the day." An early riser by anyone's standards, McNew is up almost every morning at 4:30 to check his email and calendar first before starting his daily workout. In January of this year, McNew also seized a new professional chapter: succeeding the retiring Rob Fulp as president and CEO of SFC Bank.
While this was a role that McNew welcomed, it wasn't the role he envisioned when he was beginning his career. "I didn't start my career in banking," McNew says. "I was a partner, owning over 10 retail locations. After that, I was part of a software company. I went into banking after a lunch with a good friend, Joe Turner [of Great Southern Bank]."
Even then, McNew admits he began his time in banking as a way to learn about different types of businesses, a method of research to determine his next business move. But 15 years later, "I'm still here." If McNew has anything to say about it, even better things are still to come for SFC. "After merging our bank with Quad City Holding (QCRH) company, it has allowed us to have the capacity to continue to grow," he says "We have a great leadership team and board here and look forward to working with current and future clients. We hope to eventually add wealth management and add new locations to our footprint."
Away from work, McNew focuses his time on causes and people near and dear to his heart. He is currently on both the Care to Learn and Lost and Found boards. "I usually like to stick to one local nonprofit board at a time, but both of these organizations have a real impact on our local youth who really need help," he says. Additionally, he enjoys soaking up as much time as he can with his sons. "Both of my boys are starting to move on, and it really keeps me grounded on what is important in life—family."
To unwind in his spare time, McNew enjoys playing golf. In fact, his ideal day off would certainly involve hitting the course "until the cart runs out of battery" and reading biographies. "I like to learn about what makes people who are great at their craft tick. People with high energy who are passionate about their chosen field motivate me," he says. To anyone else trying to juggle life, McNew offers these words of wisdom: "You can't be all things to all people. Focus on your strategy and stick to it."