Theatre
Supernatural: Live Parodies – "Salvation"
9 p.m. to 10 p.m.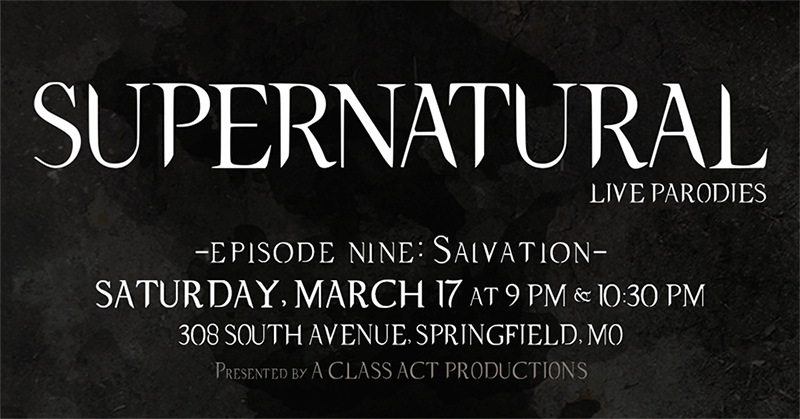 About This Event
---
Sam and Dean Winchester; two Midwest brothers raised as Hunters to track down ghosts, demons, and other creatures of the paranormal. They're on a quest to find their father who has disappeared, leaving only a journal behind of his adventures for his sons to follow his trail.
In the last episode, Sam and Dean reunited with their father who joined the fight and helped to obtain the legendary revolver called the Colt – a weapon capable of killing anything it shoots. In the aftermath, Dean was transported to another dimension while Buffy Summers (the Vampire Slayer) steps in to take his place. Sam, John, and Buffy must work together if they're going to find Dean as well as to get Buffy back to her rightful reality. Elsewhere, Meg is laying groundwork to get the Colt from the Winchesters, leaving a bloody trail of warnings in her wake. John decides to go solo to complete his mission with Meg, while Sam and Buffy investigate elsewhere on their own.
Will Sam, John, and Buffy find Dean? Will Buffy return to her own dimension? Will John fulfill his quest in killing the demon that started their tumultuous expedition so many years ago? Find out in the next episode of Supernatural: Live Parodies! Come hunting with us!
Two show times at 9:00 and 10:30 pm.