Sports
Springfield Roller Derby 5th Annual Harry Potter Quadditch House Cup
6 p.m. to 10 p.m.
Recurring Event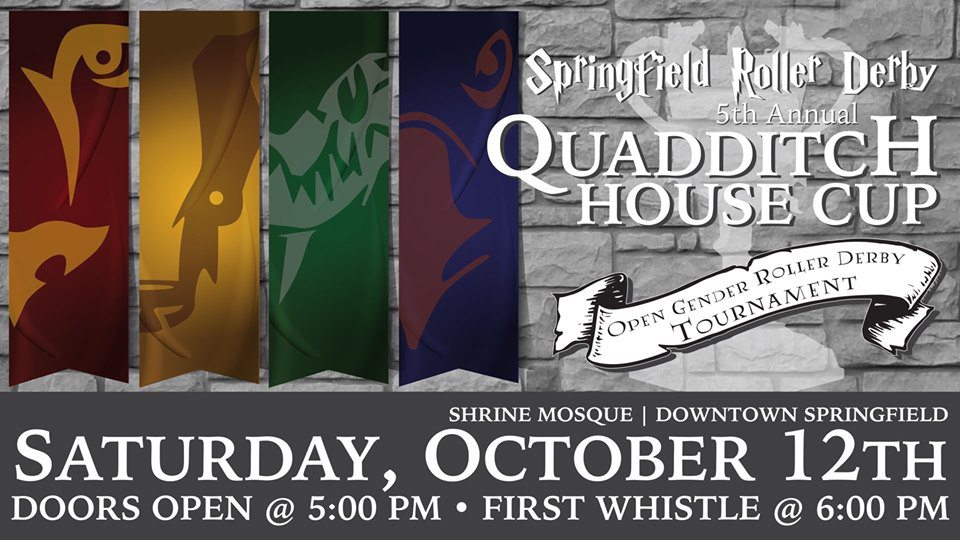 About This Event
---
Local roller derby team, Springfield Roller Derby will be hosting its' 5th Annual Quadditch House Cup Roller Derby Mashup! This Harry Potter themed open gender mini-tournament will consist of 3-40-minute games. Doors open at 5:00 pm. 1st whistle starts at 6:00 pm. Beer and concessions will be available, provided by the Shrine Mosque. Tickets are FREE!
Raffle will be held during the Mashup with following type of packages to possibly win:
Date Night - Health & Beauty - Family Fun - I Love Roller Derby - Pet Package
1 ticket = $1; 12 tickets = $10
Winners are NOT required to be present!
Winner will be drawn during Quadditch House Cup
After-Party at T-Bairz following bout: 2833 W Chestnut Expy., Springfield, MO!
Founded in 2006, Springfield Roller Derby is a league of skaters, volunteers, and referees who are dedicated to growing the sport of roller derby, while also supporting the health and growth of the Springfield community. We are a member of the Women's Flat Track Derby Association (WFTDA), the governing body for women's amateur flat track roller derby, consisting of over 200 all-female, skater-owned-and-operated leagues internationally. Our intent since rebranding in 2017 is to be more inclusive with the sport of roller derby and bring more participants from the 417 area into the game.
Featured Community Partner: FosterAdopt Connect. Their mission is to provide foster and adopted children the opportunity of a stable, caring, loving and nurturing family environment by recruiting, training, developing, supporting and motivating foster and adoptive parents.
We would like to thank our sponsors:
Rodan+Fields by Jennie Haymes, EH Photo, Springfield Recovery Community Center, Body Piercing by Qui Qui, Wine Time with Sherry (WineShop at Home), Fotojenics Photography, LLC, Haymes Insurance Agency, Pitt Technology Group, Beautiful Fight Woodworking, Mollie Wallace @ Queen City Beauty Spa, Xpert Exteriors, Roller Derby Skate Corp., and Bout Tats.